Each week from August through December, 2011, I asked a new Minnesota songwriter to let me produce one of their originals, pro bono. Why did I decide to take on this beast of a project?
I wanted to hone my mixing skills and get a little more exposure as a music producer in the Twin Cities.
I wanted to help promote my friends' music, as well as other talented but unheard Minnesota songwriters.
I wanted to light a match under some songwriters who haven't had the money or motivation to get their songs recorded.
The compilation album is now available to stream or download for free. Thanks for listening!
If there's enough interest, I'll continue the project with a whole new group of songwriters. If you'd like to get involved, please contact me.
The Song A Week Sessions: Volume 1
More about each song:
1. Daniel Jenstad – "In Transit"
2. Maria de las Nieves – "Canto Di Caino"
3. Paul Spring – "Plum Street"
4. Alpenglow – "Mountain Man"
5. Matt and Donna – "Canard Digérateur"
6. Andy Price – "Daytime Superhero"
7. Pat Boerner and Brittany Miller – "Something To Say"
8. Lazerwülf – "Breakthrough"
9. Whitaker Trebella and Charlie McCarron – "Ghosts Of Hallemot"
10. Brandon Dvorak – "Kingdom"
11. Kurtz – "Everything Burns Alike"
12. Jake Anderson – "Full Of…"
13. Jason P. Schumacher – "Secret Selves"
14. WC Tank – "Achoo"
15. Simon Sperl – "Latent Promises"
16. Pete Eisenberg and Tom Holmes – "A Penny Around My Neck"
17. Luke Friedrich – "Just Like Today" (Charlie Parr Cover)
About The Producer, Charlie McCarron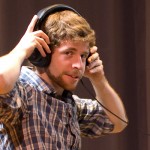 I've been writing and recording music of my own for several years, from acoustic to electronic, classical to pop to off-the-wall experimental. For my senior thesis at Saint John's University, I undertook a major album project, The Mystery of Grey Matters. It's a three-disc concept album where you can listen to disc 1 and 2 separately, or simultaneously (on disc 3), to get a different perspective of the album's story.
After graduating, I spent nine months in Tanzania, teaching English, Computers, and Music. I had fun recording a bunch of my students' original songs.
Upon returning from this voyage, I got into some online songwriting communities and organized a Cover of the Month Club, a "Frankensong" challenge. I also wrote a bunch of songs for the online songwriting challenges SpinTunes and A Songwriting Cycle, which you can hear on my music page.
In doing all these projects, I started to develop a love for the production side of music. But it still felt like a dark art to me. So I decided to work at it more methodically, but starting this Song A Week project. I felt like I would learn much more by collaborating with other musicians. And I hope it will be a springboard to fame for these talented local artists I worked with.
About The Videographer, Jeffrey Schwinghammer
Throughout the project, my good friend Jeff shot and edited a ton of amazing video, from behind the scenes footage to all-out music videos, like this one for Alpenglow's "Mountain Man":

Jeff has been making a name for himself around the Twin Cities as an excellent cinematographer and local film enthusiast. His YouTube channel is a treasure trove of fun videos. You can also read more about his work at JeffreySchwinghammer.com and follow him on twitter @JSchwinghammer.
In addition to being the lead videographer for The Song A Week Sessions, Jeff has also graciously taken on the role of PR Director. Shoot him an email at jeff@charliemccarron.com if you'd like to find out more about the project.