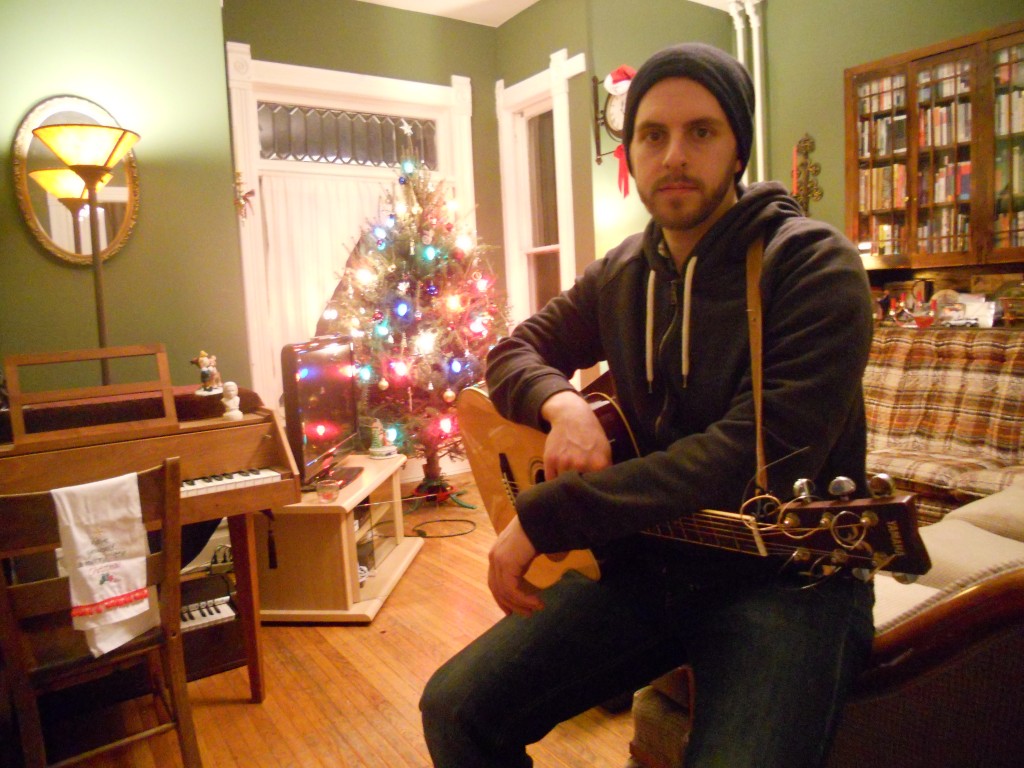 Dan Jenstad, graphic designer by day, came over to record last week. He was torn between recording a cover and an original song. I'm glad I pushed him to try out his original, though, because it turned out to be one of the best song-a-week tunes yet. And surprisingly, it's the first full song he has ever written. Quite a debut.
In Transit
By Daniel Jenstad
I'd travel like a bullet would
Careening round your neighborhoods
As a train
As a train
In transit, was pedantic
I got lost in the semantics
Of the rules in how to travel
Ties started to unravel
Just a train wreck in a necktie
Work myself right off the tracks
But i'm suited for destruction
So there's no route for turning back
When I pushed towards the Mississippi
And all your streetlights that had kissed me
Started glowing in my frame
But I pushed on just the same
And all the steam that I would muster
Would like the dazzle of that luster
It stitched the path that trailed
The whistle sounds its brightest wail
This is just an evolution
Of one vessel's constitution
But there's nothing quite as pretty
As the absence of the city
Dan Jenstad – Vocals, Acoustic Guitar
Mitchell Johnson, Gwen Wasmund, Ryan Ruff Smith – Backing Vocals
Charlie McCarron – Electric Guitar, Bass, Piano, Percussion, Backing Vocals
Behind the Song
I met Dan years back through song-a-week-er Matt Schubbe. Matt always said Dan had a ton of songwriting potential, so I was excited to hear his stuff.
After Dan played the song for me, we talked a little music theory, and spent some time figuring out a few last chords he was unsure about. The song was pretty much fully formed, but tweaking a few chords slightly here and there helped give the song some more character.
For the theory nerds out there, take a listen to the lines "Just a trainwreck in a necktie" (0:45) and "All the steam that I would muster" (1:27). The chord progressions around these sections are almost the same, except for basically one note. The first time, we go from a D major chord to a D7 (D dominant 7th chord). The second time we, go from a D major chord to a DM7 (D major 7th chord). Notice how the first section feels a little more playful, but kind of unsettled at the same time, like it has to keep moving. That's the character of a dominant seventh chord. At least that's what it sounds like to me. And the second section, where we use a D major seventh chord, sounds more like the train is approaching its destination (pardon the pun). To me, major seventh chords always seem to add poignancy and depth to a song. Pretty crazy how a single note in a chord can change the mood drastically.
We had a special guest on night two of recording. Matt Schubbe showed up to hang out and help with some lyrics. After they got the lyrics sorted out, Dan recorded vocals. We did take after take after take, but not because Dan wasn't performing vocally well. It was partly out of wanting to get the best take possible, and partly out of coming up with melodies on the fly. In my book, there's nothing wrong with improvising in front of the mic. That's where the awesome whistle solo and "oohs" at the end came from.
Later on, I played the song for my roommate Mitchell Johnson, and he immediately had a vocal arrangement idea for the "Trainwreck in a necktie" part. So we rounded up all the singers who happened to be in our house (Ryan Ruff Smith, Gwen Wasmund, Mitchell, and me), and we sang each vocal line in unison. That's the method Mitchell and Ryan often use for recording vocals in their band Spencer McGillicutty.
It was great fun having free reign in producing this song. I got to use my early Christmas present of a bass guitar (thanks Mom and Dad!). It was also one of the few times I've recorded a piano solo. I got two hours of sleep on Monday night because I was getting way too into adding percussion parts, which include knee-slapping, a broken coat hanger, and a homemade shaker.
I wish I had a link to more of Dan's music, but it doesn't exist yet. Luckily, recording this song has spurred him on to start writing more. I'll be the first to spread the word about future Dan Jenstad songs.