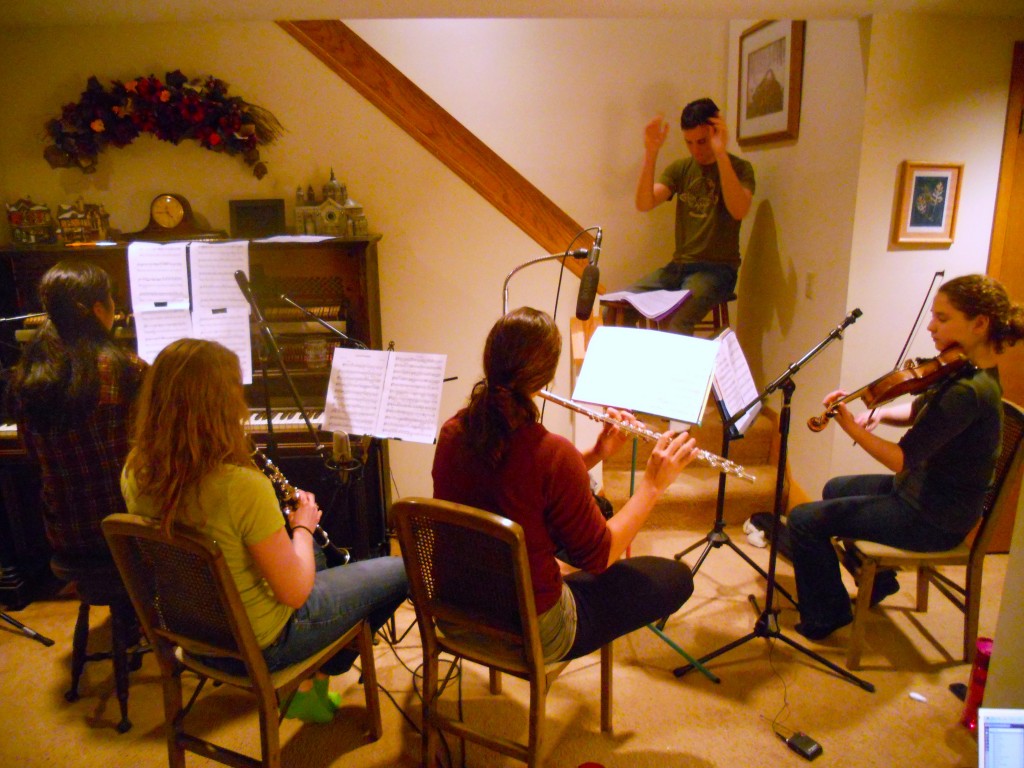 Simon Sperl, a fellow composer from CSB/SJU, spent the better part of a year volunteering in East Africa. He was inspired to start writing a classical quintet while he was in Kenya. I was glad to see "Latent Promises" come to fruition, thanks to five amazing musicians.
Latent Promises
By Simon Sperl
Eric Graf – Cello
Megan Hagberg – Piano
Katie Murphy – Violin
Emily Olson – Flute
Emily Powell – Clarinet
Behind the Scenes
Yes, Simon is actually conducting in a stairwell in the above video. We needed to find someplace with a decent piano, and my parents' house fit the bill. When someone gave me a quote of $2,000 to rent a grand piano room on a weekend, my great-grandmother's piano didn't sound half bad.
It was a small miracle we were able to gather four players together, considering it was Thanksgiving weekend when we recorded. I was looking forward to it, since these talented ladies were all music majors with me at St. Ben's/St. John's. It was kind of a mini reunion for us.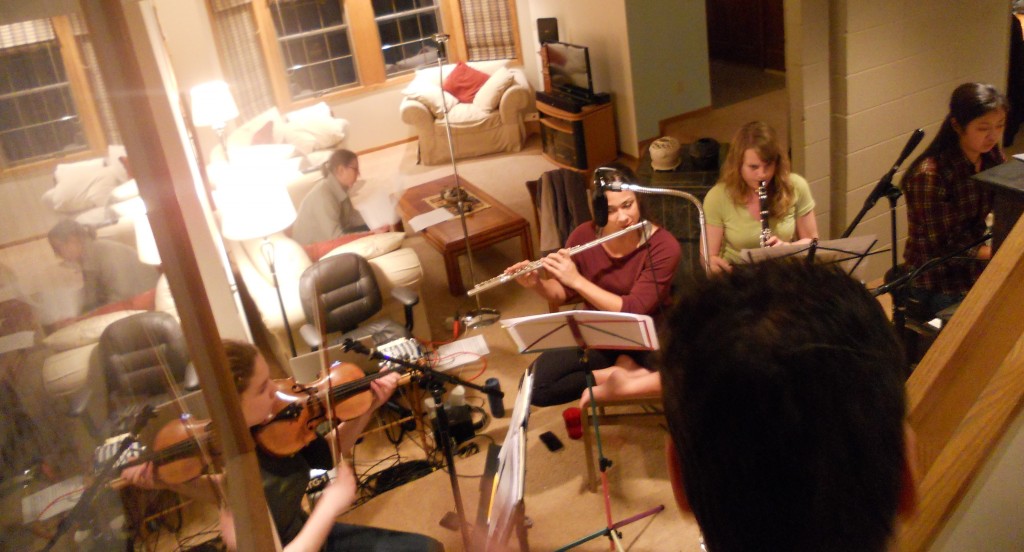 Like true music majors, they'd all been extremely diligent about learning their parts. But since they hadn't played Simon's piece together before recording day, it took a bit of rehearsal time. Simon didn't hold back when he was writing it; there are plenty of tricky and unique rhythms. I wonder if he ever imagined he'd be conducting in 11/8 time.
After we finished recording, we moved the party downtown Stillwater, and went out to eat at a bar that happened to have live bluegrass music. And Katie Murphy happened to bring her violin in out of the cold. And they just happened to need a fiddle player! After a little egging on, she got right up on stage, and her violin skills secured her a spot in the band anytime she's in Stillwater.
So that was Thanksgiving weekend. Everything went super smoothly. But…we still needed a cellist. Three weeks and dozens of calls later, I finally found a guy willing and able to play the part. Eric Graf, a junior studying cello performance at the U of M, did an excellent job. He was also super prepared when he came in to record, despite only having a few days to look at the piece.
Since a few sections of latent promises are solo cello, I knew we'd need some sort of metronome going so we could line up the parts. But at the same time, the piece would never feel right if the four women were forced to play to a metronome. I had to be a little clever about it. So when Simon was conducting the group, I tapped my keyboard along with his beat, and recorded those pulses as MIDI notes, so I could use them later as a metronome for our cellist.
It was great to hear the story behind Simon's piece. Having also been in East Africa, I understood his frustration with trying to initiate change but getting nowhere. The laid-back, unhurried culture is really refreshing at times, but it can wear on you if you're trying to get something accomplished as a volunteer. The school I taught at in Tanzania was in desperate need of bookshelves, and what could have been a week-long project turned out to be a three-month endeavor.
Anyways, everyone who knows me is probably sick of my Tanzania stories. So in summary, I wish Simon all the best in his future composing. And a huge thanks to this quintet for taking the time to rehearse and record "Latent Promises."