---
Episodes / Patrons / Hall of Fame / Forum (Beta)
---
Ep. 124: Season 4 Finale: Jon Brantingham Returns
Audio clip: Adobe Flash Player (version 9 or above) is required to play this audio clip. Download the latest version here. You also need to have JavaScript enabled in your browser.
Current Composing Quest (sign-ups closed): MNKINO Film Score Fest
Audio clip: Adobe Flash Player (version 9 or above) is required to play this audio clip. Download the latest version here. You also need to have JavaScript enabled in your browser.
---
"★ ★ ★ ★ ★. I feel like I've found a new online composer family with this podcast. Can't recommend it enough!"
-Esnpiano, iTunes reviewer
"So good. Best interviewer ever."
-Grammy-winning songwriter Joe Mailander
"As a HUGE podcast geek (and composer), it fills a niche that I feel we've been missing!"
–William Dodson
"I find Composer Quest to be the #1 search result for music composition podcast."
-Anonymous Google Bot
Composer Quest was born out of my desire to fill the surprising void of music composition podcasts on iTunes. I started by interviewing my songwriter friends about their composing and songwriting tips. It's now a full-fledged music composition podcast of interviews with all kinds of talented music makers.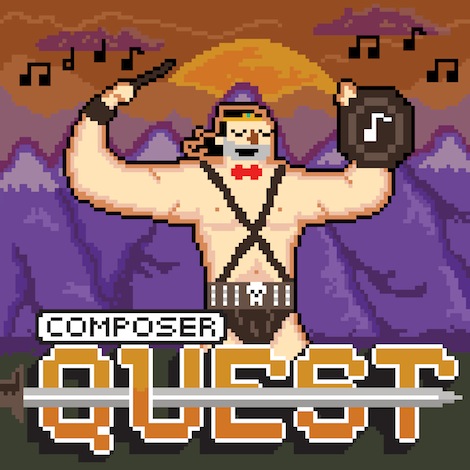 Whether you're a music composition grad or an occasional noodler on guitar, each guest has a new perspective on composing and songwriting. Hopefully you'll get some ideas for your own music.
I post a new Composer Quest episode every Wednesday evening. The entire back catalog is free to stream and download below, or through iTunes, Stitcher, or RSS.
-Charlie McCarron, Composer Quest host
---
If you enjoy the show, consider becoming an official Composer Quest patron! There are different rewards if you help out at the $1, $2, and $3/episode levels. Thanks for considering it, and thanks so much to my current patrons who help keep the show running!
---
Composer Quest Episodes
To download an episode, right-click the mp3 link and "Save As."
Season 4 Finale: Jon Brantingham Returns • mp3 • about

Audio clip: Adobe Flash Player (version 9 or above) is required to play this audio clip. Download the latest version here. You also need to have JavaScript enabled in your browser.

African Guitar Legend Siama Matuzungidi • mp3 • about

Audio clip: Adobe Flash Player (version 9 or above) is required to play this audio clip. Download the latest version here. You also need to have JavaScript enabled in your browser.

TV Composer Double Feature: Fil Eisler and Mac Quayle • mp3 • about

Audio clip: Adobe Flash Player (version 9 or above) is required to play this audio clip. Download the latest version here. You also need to have JavaScript enabled in your browser.

Inside the Creative Mind of Noah Keesecker • mp3 • about

Audio clip: Adobe Flash Player (version 9 or above) is required to play this audio clip. Download the latest version here. You also need to have JavaScript enabled in your browser.

Composing a Symphony with Musicologist Michael Dodds • mp3 • about

Audio clip: Adobe Flash Player (version 9 or above) is required to play this audio clip. Download the latest version here. You also need to have JavaScript enabled in your browser.

Game Music so Sweet it'll Make Your Teeth Hurt, with Lisa Walkosz-Migliacio • mp3 • about

Audio clip: Adobe Flash Player (version 9 or above) is required to play this audio clip. Download the latest version here. You also need to have JavaScript enabled in your browser.

Music Evolution with DarwinTunes Creator Bob MacCallum • mp3 • about

Audio clip: Adobe Flash Player (version 9 or above) is required to play this audio clip. Download the latest version here. You also need to have JavaScript enabled in your browser.

Composer Secrets with Ian Dicke • mp3 • about

Audio clip: Adobe Flash Player (version 9 or above) is required to play this audio clip. Download the latest version here. You also need to have JavaScript enabled in your browser.

Music from the Director's Chair with Jason P. Schumacher • mp3 • about

Audio clip: Adobe Flash Player (version 9 or above) is required to play this audio clip. Download the latest version here. You also need to have JavaScript enabled in your browser.

Arranging Pop Songs with Producer Andy Thompson • mp3 • about

Audio clip: Adobe Flash Player (version 9 or above) is required to play this audio clip. Download the latest version here. You also need to have JavaScript enabled in your browser.

Patchwork Scriabin Results • mp3 • about

Audio clip: Adobe Flash Player (version 9 or above) is required to play this audio clip. Download the latest version here. You also need to have JavaScript enabled in your browser.

Song Exploder's Hrishikesh Hirway on Songwriting • mp3 • about

Audio clip: Adobe Flash Player (version 9 or above) is required to play this audio clip. Download the latest version here. You also need to have JavaScript enabled in your browser.

Quest 15: MNKINO Film Score Fest • mp3 • about

Audio clip: Adobe Flash Player (version 9 or above) is required to play this audio clip. Download the latest version here. You also need to have JavaScript enabled in your browser.

Quest 14: Patchwork Scriabin with UniqueSound • mp3 • about

Audio clip: Adobe Flash Player (version 9 or above) is required to play this audio clip. Download the latest version here. You also need to have JavaScript enabled in your browser.

Season 4 Premiere: Brain Music with Roger Dumas • mp3 • about

Audio clip: Adobe Flash Player (version 9 or above) is required to play this audio clip. Download the latest version here. You also need to have JavaScript enabled in your browser.

Merry Podmas: 7 Composition Podcasts • mp3 • about

Audio clip: Adobe Flash Player (version 9 or above) is required to play this audio clip. Download the latest version here. You also need to have JavaScript enabled in your browser.

N64 Composer Grant Kirkhope Talks Banjo Kazooie, GoldenEye, Perfect Dark • mp3 • about

Audio clip: Adobe Flash Player (version 9 or above) is required to play this audio clip. Download the latest version here. You also need to have JavaScript enabled in your browser.

Chiptune Composing with Ben Burnes • mp3 • about

Audio clip: Adobe Flash Player (version 9 or above) is required to play this audio clip. Download the latest version here. You also need to have JavaScript enabled in your browser.

Quest 13: Arias on Tap, the Sequel • mp3 • about

Audio clip: Adobe Flash Player (version 9 or above) is required to play this audio clip. Download the latest version here. You also need to have JavaScript enabled in your browser.

Scoring and Re-scoring Films with Alex Ruger • mp3 • about

Audio clip: Adobe Flash Player (version 9 or above) is required to play this audio clip. Download the latest version here. You also need to have JavaScript enabled in your browser.

Chopin, Hendrix, and Pianist Paul Cantrell • mp3 • about

Audio clip: Adobe Flash Player (version 9 or above) is required to play this audio clip. Download the latest version here. You also need to have JavaScript enabled in your browser.

Geriatric Songwriters and Music Therapy with Angela Johnson • mp3 • about

Audio clip: Adobe Flash Player (version 9 or above) is required to play this audio clip. Download the latest version here. You also need to have JavaScript enabled in your browser.

Composing with Knobs and Patch Cables, Featuring Mike Olson • mp3 • about


Audio clip: Adobe Flash Player (version 9 or above) is required to play this audio clip. Download the latest version here. You also need to have JavaScript enabled in your browser.

Quest 12: Suzuki Flute Choir • mp3 • about

Audio clip: Adobe Flash Player (version 9 or above) is required to play this audio clip. Download the latest version here. You also need to have JavaScript enabled in your browser.

Episode 100: Mitchell Johnson Returns • mp3 • about

Audio clip: Adobe Flash Player (version 9 or above) is required to play this audio clip. Download the latest version here. You also need to have JavaScript enabled in your browser.

Superfan Dan Wheeler's Top 10 Composer Quest Memories • mp3 • about

Audio clip: Adobe Flash Player (version 9 or above) is required to play this audio clip. Download the latest version here. You also need to have JavaScript enabled in your browser.

Melody and Modulation with Composer Coach Jon Brantingham • mp3 • about

Audio clip: Adobe Flash Player (version 9 or above) is required to play this audio clip. Download the latest version here. You also need to have JavaScript enabled in your browser.

Quest 11: Halloween Reeds • mp3 • about

Audio clip: Adobe Flash Player (version 9 or above) is required to play this audio clip. Download the latest version here. You also need to have JavaScript enabled in your browser.

Season 3 Premiere: Fargo Composer Jeff Russo on TV Scoring • mp3 • about

Audio clip: Adobe Flash Player (version 9 or above) is required to play this audio clip. Download the latest version here. You also need to have JavaScript enabled in your browser.

Losing Control of Your Music • mp3 • about

Audio clip: Adobe Flash Player (version 9 or above) is required to play this audio clip. Download the latest version here. You also need to have JavaScript enabled in your browser.

Quest 10: Autumn Strings • mp3 • about

Audio clip: Adobe Flash Player (version 9 or above) is required to play this audio clip. Download the latest version here. You also need to have JavaScript enabled in your browser.

How Music Licensing Deals are Made in Film and TV • mp3 • about

Audio clip: Adobe Flash Player (version 9 or above) is required to play this audio clip. Download the latest version here. You also need to have JavaScript enabled in your browser.

Film Scoring 101 with Adam Conrad • mp3 • about

Audio clip: Adobe Flash Player (version 9 or above) is required to play this audio clip. Download the latest version here. You also need to have JavaScript enabled in your browser.

A Concept Album for Every Season with Chris Koza • mp3 • about

Audio clip: Adobe Flash Player (version 9 or above) is required to play this audio clip. Download the latest version here. You also need to have JavaScript enabled in your browser.

Composing Tips from Triple Major Alex Cooke • mp3 • about

Audio clip: Adobe Flash Player (version 9 or above) is required to play this audio clip. Download the latest version here. You also need to have JavaScript enabled in your browser.

Rock and Docs with Composer Silas Hite • mp3 • about

Audio clip: Adobe Flash Player (version 9 or above) is required to play this audio clip. Download the latest version here. You also need to have JavaScript enabled in your browser.

Dame Evelyn Glennie on Percussion and Dynamics • mp3 • about

Audio clip: Adobe Flash Player (version 9 or above) is required to play this audio clip. Download the latest version here. You also need to have JavaScript enabled in your browser.

Behind the Curtain of Composing Wizard Tyler Tholl • mp3 • about

Audio clip: Adobe Flash Player (version 9 or above) is required to play this audio clip. Download the latest version here. You also need to have JavaScript enabled in your browser.

Animation Composing with Paul Fraser • mp3 • about

Audio clip: Adobe Flash Player (version 9 or above) is required to play this audio clip. Download the latest version here. You also need to have JavaScript enabled in your browser.

Adrienne Albert, Composer and Stravinsky's Favorite Alto • mp3 • about

Audio clip: Adobe Flash Player (version 9 or above) is required to play this audio clip. Download the latest version here. You also need to have JavaScript enabled in your browser.

Quest 9: Film Scoring for Live Orchestra • mp3 • about

Audio clip: Adobe Flash Player (version 9 or above) is required to play this audio clip. Download the latest version here. You also need to have JavaScript enabled in your browser.

Music Theory for the Bored with Justin Merritt • mp3 • about

Audio clip: Adobe Flash Player (version 9 or above) is required to play this audio clip. Download the latest version here. You also need to have JavaScript enabled in your browser.

FEZ's Composer Disasterpeace on Creative Music Theory for Games • mp3 • about

Audio clip: Adobe Flash Player (version 9 or above) is required to play this audio clip. Download the latest version here. You also need to have JavaScript enabled in your browser.

Quest 8: May the Four-Hand Piano Be with You • mp3 • about

Audio clip: Adobe Flash Player (version 9 or above) is required to play this audio clip. Download the latest version here. You also need to have JavaScript enabled in your browser.

Polka Expert Joey Johnson • mp3 • about

Audio clip: Adobe Flash Player (version 9 or above) is required to play this audio clip. Download the latest version here. You also need to have JavaScript enabled in your browser.

Minimalist Mandola Songwriting with Nathan Eliot • mp3 • about

Audio clip: Adobe Flash Player (version 9 or above) is required to play this audio clip. Download the latest version here. You also need to have JavaScript enabled in your browser.

Eggs, Bacon, and Composer Wisdom from Rick Sowash • mp3 • about

Audio clip: Adobe Flash Player (version 9 or above) is required to play this audio clip. Download the latest version here. You also need to have JavaScript enabled in your browser.

Starting a Composer/Producer Career with Tom Snively • mp3 • about

Audio clip: Adobe Flash Player (version 9 or above) is required to play this audio clip. Download the latest version here. You also need to have JavaScript enabled in your browser.

The Art of Banjo Songwriting with Ellen Stanley • mp3 • about

Audio clip: Adobe Flash Player (version 9 or above) is required to play this audio clip. Download the latest version here. You also need to have JavaScript enabled in your browser.

Tax Tips for Musicians • mp3 • about

Audio clip: Adobe Flash Player (version 9 or above) is required to play this audio clip. Download the latest version here. You also need to have JavaScript enabled in your browser.

Sound Scientist Seth Horowitz on Dolphins, Aliens, and Aural Therapy • mp3 • about

Audio clip: Adobe Flash Player (version 9 or above) is required to play this audio clip. Download the latest version here. You also need to have JavaScript enabled in your browser.

Composer Infotainment with Mr. Wilson • mp3 • about

Audio clip: Adobe Flash Player (version 9 or above) is required to play this audio clip. Download the latest version here. You also need to have JavaScript enabled in your browser.

Honest Songwriting with Laura Marie • mp3 • about

Audio clip: Adobe Flash Player (version 9 or above) is required to play this audio clip. Download the latest version here. You also need to have JavaScript enabled in your browser.

Songwriting Theory with Pat Pattison • mp3 • about

Audio clip: Adobe Flash Player (version 9 or above) is required to play this audio clip. Download the latest version here. You also need to have JavaScript enabled in your browser.

Quest 7: Compose Music for Your Valentine • mp3 • about

Audio clip: Adobe Flash Player (version 9 or above) is required to play this audio clip. Download the latest version here. You also need to have JavaScript enabled in your browser.

Composer Career Counseling with ACF's Craig Carnahan • mp3 • about

Audio clip: Adobe Flash Player (version 9 or above) is required to play this audio clip. Download the latest version here. You also need to have JavaScript enabled in your browser.

Freelance Video Game Composing with Chris Kukla • mp3 • about

Audio clip: Adobe Flash Player (version 9 or above) is required to play this audio clip. Download the latest version here. You also need to have JavaScript enabled in your browser.

Lazerwülf on Charity Songwriting • mp3 • about

Audio clip: Adobe Flash Player (version 9 or above) is required to play this audio clip. Download the latest version here. You also need to have JavaScript enabled in your browser.

Merry Questmas! • mp3 • about

Audio clip: Adobe Flash Player (version 9 or above) is required to play this audio clip. Download the latest version here. You also need to have JavaScript enabled in your browser.

Schizophrenic Synthpop Storytelling with Felix Frost • mp3 • about

Audio clip: Adobe Flash Player (version 9 or above) is required to play this audio clip. Download the latest version here. You also need to have JavaScript enabled in your browser.

How to Compose Earworms and Fetal Music with Dr. Vicky Williamson • mp3 • about

Audio clip: Adobe Flash Player (version 9 or above) is required to play this audio clip. Download the latest version here. You also need to have JavaScript enabled in your browser.

Songwriting Tricks with Dylan McFarling • mp3 • about

Audio clip: Adobe Flash Player (version 9 or above) is required to play this audio clip. Download the latest version here. You also need to have JavaScript enabled in your browser.

Philosophies of Music Composition with Richard Russell • mp3 • about

Audio clip: Adobe Flash Player (version 9 or above) is required to play this audio clip. Download the latest version here. You also need to have JavaScript enabled in your browser.

Video Game Composition with Michael Chadwick • mp3 • about

Audio clip: Adobe Flash Player (version 9 or above) is required to play this audio clip. Download the latest version here. You also need to have JavaScript enabled in your browser.

Indie Film Composing with Brooke deRosa • mp3 • about

Audio clip: Adobe Flash Player (version 9 or above) is required to play this audio clip. Download the latest version here. You also need to have JavaScript enabled in your browser.

Quest 6: Fortune Cookie Songwriting • mp3 • about

Audio clip: Adobe Flash Player (version 9 or above) is required to play this audio clip. Download the latest version here. You also need to have JavaScript enabled in your browser.

Halloween Composing with Sideshow Sound Theatre • mp3 • about

Audio clip: Adobe Flash Player (version 9 or above) is required to play this audio clip. Download the latest version here. You also need to have JavaScript enabled in your browser.

Writing Lyrics Like a Criminal With Brian Laidlaw • mp3 • about

Audio clip: Adobe Flash Player (version 9 or above) is required to play this audio clip. Download the latest version here. You also need to have JavaScript enabled in your browser.

Dutch Dance Music with Ducked Ape • mp3 • about

Audio clip: Adobe Flash Player (version 9 or above) is required to play this audio clip. Download the latest version here. You also need to have JavaScript enabled in your browser.

The Psychology of Creativity with Wilma Koutstaal • mp3 • about

Audio clip: Adobe Flash Player (version 9 or above) is required to play this audio clip. Download the latest version here. You also need to have JavaScript enabled in your browser.

Social Sound Experiments with Marc Weidenbaum • mp3 • about

Audio clip: Adobe Flash Player (version 9 or above) is required to play this audio clip. Download the latest version here. You also need to have JavaScript enabled in your browser.

Quest 5: Arrange a Carol for the Amadeus Chamber Symphony • mp3 • about

Audio clip: Adobe Flash Player (version 9 or above) is required to play this audio clip. Download the latest version here. You also need to have JavaScript enabled in your browser.

Composing for Youth Jazz Ensembles with Dean Sorenson • mp3 • about

Audio clip: Adobe Flash Player (version 9 or above) is required to play this audio clip. Download the latest version here. You also need to have JavaScript enabled in your browser.

"I've Written a Song. Now What Do I Do?" • mp3 • about

Audio clip: Adobe Flash Player (version 9 or above) is required to play this audio clip. Download the latest version here. You also need to have JavaScript enabled in your browser.

Audacity Producer Desmond Simmons is Big in Japan • mp3 • about

Audio clip: Adobe Flash Player (version 9 or above) is required to play this audio clip. Download the latest version here. You also need to have JavaScript enabled in your browser.

Music Composition for the Masses with Anthony Joseph Lanman • mp3 • about

Audio clip: Adobe Flash Player (version 9 or above) is required to play this audio clip. Download the latest version here. You also need to have JavaScript enabled in your browser.

Rhythms of Tanzania with Br. Onesmo Sanga • mp3 • about

Audio clip: Adobe Flash Player (version 9 or above) is required to play this audio clip. Download the latest version here. You also need to have JavaScript enabled in your browser.

Season Two Premiere: Charlie's Musical Obituary • mp3 • about

Audio clip: Adobe Flash Player (version 9 or above) is required to play this audio clip. Download the latest version here. You also need to have JavaScript enabled in your browser.

Quest 4: Elfluenza, the Christmas Musical • mp3 • about

Audio clip: Adobe Flash Player (version 9 or above) is required to play this audio clip. Download the latest version here. You also need to have JavaScript enabled in your browser.

Marketing Your Music with Patrick Hertz • mp3 • about

Audio clip: Adobe Flash Player (version 9 or above) is required to play this audio clip. Download the latest version here. You also need to have JavaScript enabled in your browser.

Young Composer's Contest Winners Taylor Isberner and James Farrell • mp3 • about

Audio clip: Adobe Flash Player (version 9 or above) is required to play this audio clip. Download the latest version here. You also need to have JavaScript enabled in your browser.

Music Composition and the Law: How to Protect Your Creative Work • mp3 • about

Audio clip: Adobe Flash Player (version 9 or above) is required to play this audio clip. Download the latest version here. You also need to have JavaScript enabled in your browser.

Quest 3: Arias on Tap • mp3 • about

Audio clip: Adobe Flash Player (version 9 or above) is required to play this audio clip. Download the latest version here. You also need to have JavaScript enabled in your browser.

Highlights from the First Composer Quest Concert • mp3 • about

Audio clip: Adobe Flash Player (version 9 or above) is required to play this audio clip. Download the latest version here. You also need to have JavaScript enabled in your browser.

Season One Finale: Dmitri Tymoczko on Music Composition • mp3 • about

Audio clip: Adobe Flash Player (version 9 or above) is required to play this audio clip. Download the latest version here. You also need to have JavaScript enabled in your browser.

Quest 2: Conversation • mp3 • about

Audio clip: Adobe Flash Player (version 9 or above) is required to play this audio clip. Download the latest version here. You also need to have JavaScript enabled in your browser.

Torley on Creativity, Asperger's, and Music Production • mp3 • about

Audio clip: Adobe Flash Player (version 9 or above) is required to play this audio clip. Download the latest version here. You also need to have JavaScript enabled in your browser.

Follow Your Dreams! With Candy Bilyk • mp3 • about

Audio clip: Adobe Flash Player (version 9 or above) is required to play this audio clip. Download the latest version here. You also need to have JavaScript enabled in your browser.

North Korean Cannibal Songwriting with Joe Graves • mp3 • about

Audio clip: Adobe Flash Player (version 9 or above) is required to play this audio clip. Download the latest version here. You also need to have JavaScript enabled in your browser.

Movie Score Trivia with Director Elliot Diviney • mp3 • about

Audio clip: Adobe Flash Player (version 9 or above) is required to play this audio clip. Download the latest version here. You also need to have JavaScript enabled in your browser.

Physical Songwriting with Jenny Katz • mp3 • about

Audio clip: Adobe Flash Player (version 9 or above) is required to play this audio clip. Download the latest version here. You also need to have JavaScript enabled in your browser.

Reddit Sensation Cameron Scott Boster on Folk Songwriting • mp3 • about

Audio clip: Adobe Flash Player (version 9 or above) is required to play this audio clip. Download the latest version here. You also need to have JavaScript enabled in your browser.

Robot Drummers and Patrick Flanagan of Jazari • mp3 • about

Audio clip: Adobe Flash Player (version 9 or above) is required to play this audio clip. Download the latest version here. You also need to have JavaScript enabled in your browser.

Songwriting Genesis with Emot's Matt Leavitt • mp3 • about

Audio clip: Adobe Flash Player (version 9 or above) is required to play this audio clip. Download the latest version here. You also need to have JavaScript enabled in your browser.

Throat Singing and Chopping Beats with Prism House • mp3 • about

Audio clip: Adobe Flash Player (version 9 or above) is required to play this audio clip. Download the latest version here. You also need to have JavaScript enabled in your browser.

Musical Illusions with Dr. Diana Deutsch • mp3 • about

Audio clip: Adobe Flash Player (version 9 or above) is required to play this audio clip. Download the latest version here. You also need to have JavaScript enabled in your browser.

Orchestrating a Time Travel Musical with George Maurer • mp3 • about

Audio clip: Adobe Flash Player (version 9 or above) is required to play this audio clip. Download the latest version here. You also need to have JavaScript enabled in your browser.

Metal 101 with Guitarist Devin Earlywine • mp3 • about

Audio clip: Adobe Flash Player (version 9 or above) is required to play this audio clip. Download the latest version here. You also need to have JavaScript enabled in your browser.

Arranging New Standards with Chan Poling • mp3 • about

Audio clip: Adobe Flash Player (version 9 or above) is required to play this audio clip. Download the latest version here. You also need to have JavaScript enabled in your browser.

Cassette Tapes and Synesthesia with Warren Hildebrand • mp3 • about

Audio clip: Adobe Flash Player (version 9 or above) is required to play this audio clip. Download the latest version here. You also need to have JavaScript enabled in your browser.

Synesthetic Composing with Mary Beth Huttlin • mp3 • about

Audio clip: Adobe Flash Player (version 9 or above) is required to play this audio clip. Download the latest version here. You also need to have JavaScript enabled in your browser.

Mary Ellen Childs on Music Composition • mp3 • about

Audio clip: Adobe Flash Player (version 9 or above) is required to play this audio clip. Download the latest version here. You also need to have JavaScript enabled in your browser.

Quest 1: Arrange Pop Songs for Bassoon, Clarinet, and Oboe • mp3 • about

Audio clip: Adobe Flash Player (version 9 or above) is required to play this audio clip. Download the latest version here. You also need to have JavaScript enabled in your browser.

Dessa on Writing Hip Hop Lyrics • mp3 • about

Audio clip: Adobe Flash Player (version 9 or above) is required to play this audio clip. Download the latest version here. You also need to have JavaScript enabled in your browser.

Social Media for Songwriters with John Anealio • mp3 • about

Audio clip: Adobe Flash Player (version 9 or above) is required to play this audio clip. Download the latest version here. You also need to have JavaScript enabled in your browser.

Crowdfunding a Creative Bender with Tim Cheesebrow • mp3 • about

Audio clip: Adobe Flash Player (version 9 or above) is required to play this audio clip. Download the latest version here. You also need to have JavaScript enabled in your browser.

Composing Your Way Out of Plato's Cave with Ted Moore • mp3 • about

Audio clip: Adobe Flash Player (version 9 or above) is required to play this audio clip. Download the latest version here. You also need to have JavaScript enabled in your browser.

Subconscious Songwriting with Mike Nilles • mp3 • about

Audio clip: Adobe Flash Player (version 9 or above) is required to play this audio clip. Download the latest version here. You also need to have JavaScript enabled in your browser.

Minnesota Waterfall Disaster Music with Nick Syman • mp3 • about

Audio clip: Adobe Flash Player (version 9 or above) is required to play this audio clip. Download the latest version here. You also need to have JavaScript enabled in your browser.

Drum Kit Melodies with Pete James Johnson • mp3 • about

Audio clip: Adobe Flash Player (version 9 or above) is required to play this audio clip. Download the latest version here. You also need to have JavaScript enabled in your browser.

Composing YouTube Soundtracks with Corridor Digital's Sam Gorski • mp3 • about

Audio clip: Adobe Flash Player (version 9 or above) is required to play this audio clip. Download the latest version here. You also need to have JavaScript enabled in your browser.

Film Scoring with Hollywood-Bound Will VDC • mp3 • about

Audio clip: Adobe Flash Player (version 9 or above) is required to play this audio clip. Download the latest version here. You also need to have JavaScript enabled in your browser.

A Composition Seed with Dr. Brian Campbell • mp3 • about

Audio clip: Adobe Flash Player (version 9 or above) is required to play this audio clip. Download the latest version here. You also need to have JavaScript enabled in your browser.

Songwriting Inspiration with Paul Spring • mp3 • about

Audio clip: Adobe Flash Player (version 9 or above) is required to play this audio clip. Download the latest version here. You also need to have JavaScript enabled in your browser.

Teaching Kids to Compose with Maia Hamann • mp3 • about

Audio clip: Adobe Flash Player (version 9 or above) is required to play this audio clip. Download the latest version here. You also need to have JavaScript enabled in your browser.

The Okee Dokee Brothers' Joe Mailander on Kindie Songwriting • mp3 • about

Audio clip: Adobe Flash Player (version 9 or above) is required to play this audio clip. Download the latest version here. You also need to have JavaScript enabled in your browser.

Composing for iPhone Games with Whitaker Trebella • mp3 • about

Audio clip: Adobe Flash Player (version 9 or above) is required to play this audio clip. Download the latest version here. You also need to have JavaScript enabled in your browser.

How to Write a Pooping Duck Robot Song with Matt Schubbe • mp3 • about

Audio clip: Adobe Flash Player (version 9 or above) is required to play this audio clip. Download the latest version here. You also need to have JavaScript enabled in your browser.

Taking the Stage with Drummer Luke Friedrich • mp3 • about

Audio clip: Adobe Flash Player (version 9 or above) is required to play this audio clip. Download the latest version here. You also need to have JavaScript enabled in your browser.

Composing Textures with Theater Sound Designer Kevin Springer • mp3 • about

Audio clip: Adobe Flash Player (version 9 or above) is required to play this audio clip. Download the latest version here. You also need to have JavaScript enabled in your browser.

Catchy Dissonance with Nathan Graves • mp3 • about

Audio clip: Adobe Flash Player (version 9 or above) is required to play this audio clip. Download the latest version here. You also need to have JavaScript enabled in your browser.

Going Solo with Guitarist Peter Frey • mp3 • about

Audio clip: Adobe Flash Player (version 9 or above) is required to play this audio clip. Download the latest version here. You also need to have JavaScript enabled in your browser.

The Art of Lyrics with Fiction Writer Ryan Ruff Smith • mp3 • about

Audio clip: Adobe Flash Player (version 9 or above) is required to play this audio clip. Download the latest version here. You also need to have JavaScript enabled in your browser.
Subscribe to Composer Quest