---
Episodes / Resources / Hall of Fame / Charlie's Music Production Lessons
---
As the finale to the Composer Quest podcast, I went on a two-month, Kickstarter-backed tour, interviewing and making music with composers around the world. Check out the resulting album here, and the tour episodes on iTunes , Stitcher, or right here:
Tour 1: Games in Chicago
Audio clip: Adobe Flash Player (version 9 or above) is required to play this audio clip. Download the latest version here. You also need to have JavaScript enabled in your browser.
Tour 2: School in Ohio
Audio clip: Adobe Flash Player (version 9 or above) is required to play this audio clip. Download the latest version here. You also need to have JavaScript enabled in your browser.
Tour 3: Theory in New York
Audio clip: Adobe Flash Player (version 9 or above) is required to play this audio clip. Download the latest version here. You also need to have JavaScript enabled in your browser.
Tour 4: Songwriting in New England
Audio clip: Adobe Flash Player (version 9 or above) is required to play this audio clip. Download the latest version here. You also need to have JavaScript enabled in your browser.
Tour 5: Games in Chicago 2
Audio clip: Adobe Flash Player (version 9 or above) is required to play this audio clip. Download the latest version here. You also need to have JavaScript enabled in your browser.
Tour 6: Creative Work in LA
Audio clip: Adobe Flash Player (version 9 or above) is required to play this audio clip. Download the latest version here. You also need to have JavaScript enabled in your browser.
Tour 7: Family in Australia
Audio clip: Adobe Flash Player (version 9 or above) is required to play this audio clip. Download the latest version here. You also need to have JavaScript enabled in your browser.
Tour 8: Surprises in Taiwan
Audio clip: Adobe Flash Player (version 9 or above) is required to play this audio clip. Download the latest version here. You also need to have JavaScript enabled in your browser.
Tour 9: Surprises in Taiwan 2
Audio clip: Adobe Flash Player (version 9 or above) is required to play this audio clip. Download the latest version here. You also need to have JavaScript enabled in your browser.
Tour 10: Squirrels in California
Audio clip: Adobe Flash Player (version 9 or above) is required to play this audio clip. Download the latest version here. You also need to have JavaScript enabled in your browser.
Tour 11: Psychology in the Southwest
Audio clip: Adobe Flash Player (version 9 or above) is required to play this audio clip. Download the latest version here. You also need to have JavaScript enabled in your browser.
Tour 12: Finale in Minnesota
Audio clip: Adobe Flash Player (version 9 or above) is required to play this audio clip. Download the latest version here. You also need to have JavaScript enabled in your browser.
---
---
Composer Quest was born out of my desire to fill the surprising void of music composition podcasts on iTunes. I started by interviewing my songwriter friends about their composing and songwriting tips. It's now a full-fledged music composition podcast of interviews with all kinds of talented music makers and psychologists.
Whether you're a music composition grad or simply an occasional noodler on a guitar, each guest has a new perspective for you on the creative process of composing and songwriting, along with some concrete ideas to apply to your own music.
I post a new Composer Quest episode every Wednesday evening, and bi-monthly composing "quests" for you to participate in. The entire back catalog is free to stream and download below, or through iTunes, Stitcher, or RSS.
-Charlie McCarron, Composer Quest host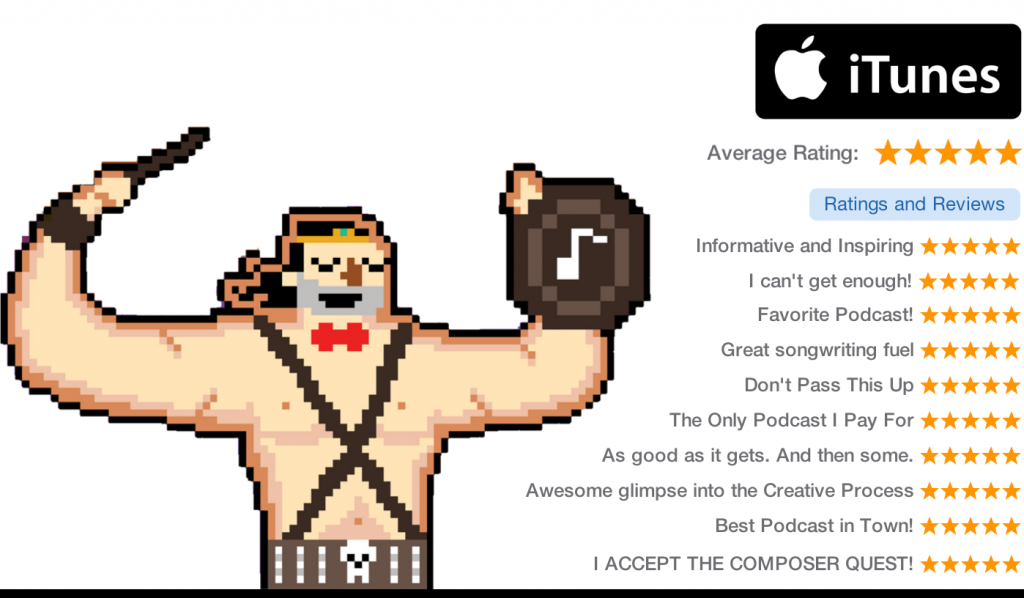 Composer Quest Episodes
To download an episode, right-click the mp3 link and "Save As."
Subscribe to Composer Quest