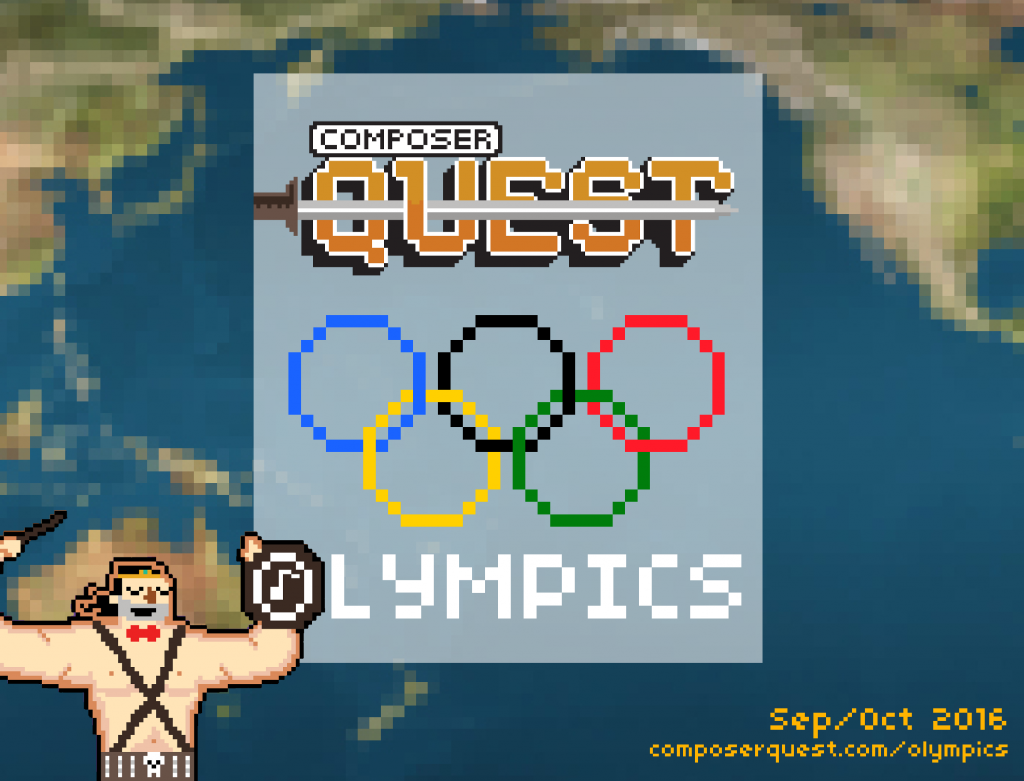 Since I'll be on my Composer Quest World Tour this fall, I decided we had to do something worldly and big for the final composing quest. In the spirit of the 2016 Rio Olympics, I'll be hosting the official Composer Quest Olympic Games!
If you're a composer looking to sharpen your composing and recording skills, I invite you to participate in this series of six Olympic-themed composing challenges. You'll have 10 days to complete each challenge, and most of them are bite-sized and doable even for a busy composer. We also have a couple team-based events.
Unlike most Composer Quest quests, your compositions will be ranked, so we can determine bronze, silver, and gold medalists for each event. The rankings will be based on votes from your fellow participants.
The American Composers Forum is co-sponsoring this challenge by providing $20 discounts on an ACF membership for a year to anyone who earns a gold medal. The overall highest-ranked composer will get a FREE year of ACF membership, plus a limited edition Composer Quest t-shirt!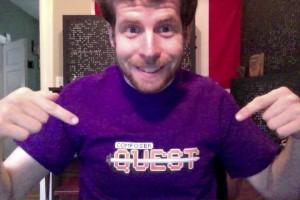 If you want to participate, email charlie [at] composerquest [dot] com.
Here's the announcement podcast episode, featuring staff members from the American Composers Forum:
Audio clip: Adobe Flash Player (version 9 or above) is required to play this audio clip. Download the latest version here. You also need to have JavaScript enabled in your browser.
Right click to download Ep. 154, or open in iTunes.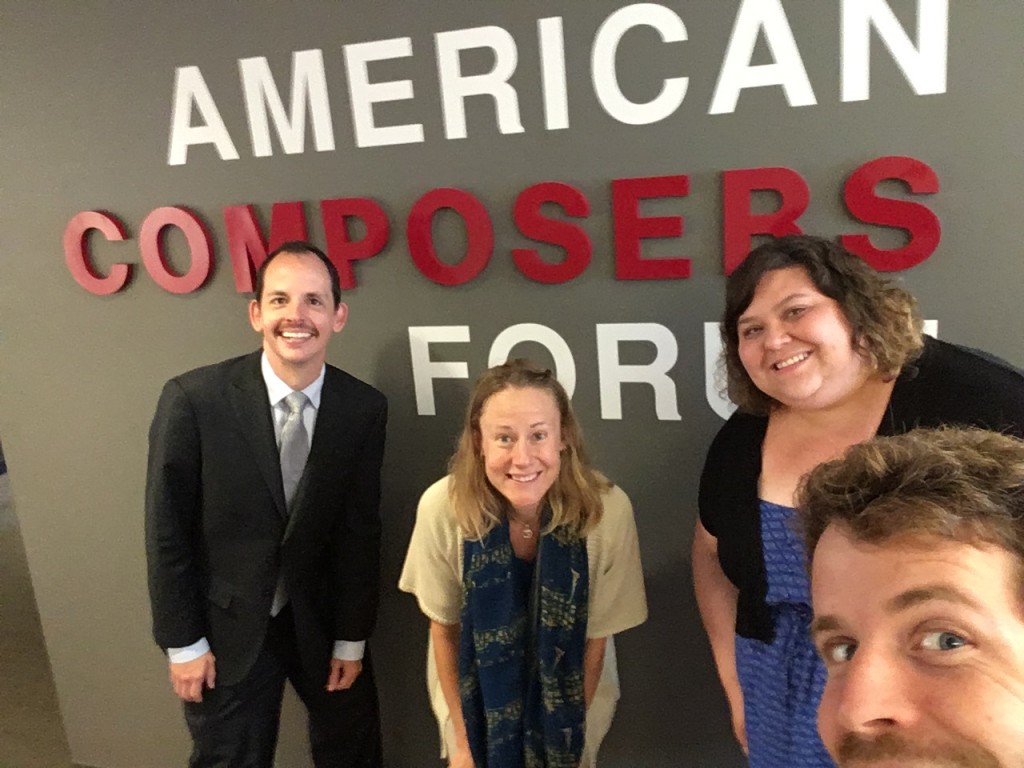 Here's a list of the events:
National Anthems
Due September 7th
Make a creative arrangement of one of your favorite national anthems for any instrumentation (acoustic or electronic), and record it to share with the group.
Table Tennis
Due September 17th
You'll be randomly paired with another composer, and you'll collaborate on a short composition in any style, for any instrumentation. The only requirement is that you and your partner must alternate contributing notes/beats one at a time, ping pong-style. You can try sending a notation file back and forth, or send recordings, or just email note names and lengths. When you're done, provide a recording to share with the group.
Weightlifting
Due September 27th
Write a 30-second or less tuba solo, which will be recorded by friend of the podcast Eric Ebeling.
Hurdles
Due October 7th
Charlie will provide a lead sheet for you to compose over. Each measure will have one chord (the hurdle), and you decide how to compose around it, in any style. Provide a recording to share with the group.
Relay Race
Due October 17th
Charlie will randomly assign you to a team of 4-5 composers, and you'll collaborate on a composition by passing it from one person to the next. You decide as a team who will go first, and each person will contribute 20 – 30 seconds of music until you have a roughly 2-minute collage composition. You can also decide as a team if you want to notate it and have someone record it as a whole, or you can send recorded chunks to each other.
Composer's Choice
Due October 27th
Maybe you can't compete in a REAL Olympic event, but you an at least compose something in honor of one. You'll pick an event and decide what style or form captures its essence. For example, if you picked javelin throw, you might compose a long continuous arc in your melody. Or maybe you want to capture the improvisation of a boxing match with competing jazz solos. Or maybe you just want to write a song about a bobsled team. Provide a recording to share with the group, plus a short written description of the event you chose and how you represented it in your composition.
Sign up!
I recommend signing up by August 27th, but you can still join in the fun if you're finding out about this later (email charlie [at] composerquest [dot] com).
Official Rules
Submitting: Your entries for each event must be sent to charlie [at] composerquest [dot] com in the form of an mp3. Use Dropbox or WeTransfer. Your submission must be received by 11:59pm Central time on the night of the deadline, or it will be out of the running for a medal.
Voting: Charlie will contact you after each event to gather your votes for your favorite submissions. You may not vote for your own submission.
Medals: For each event, the top 3 composers or teams (based on community votes) will get the (virtual) gold, silver, and bronze medals.
Overall Winner: Charlie will calculate the overall winner through a points system. For each event, you can earn up to 100 points. You get 50 points for finishing, then points on top of that based on weighted community votes. For example, if someone gets gold medals on everything, they will get a perfect 600 score.
Closing ceremony: After all the events, we'll have a live-streamed final ceremony to award medals for each event, and announce the overall winner.
Subscribe to Composer Quest