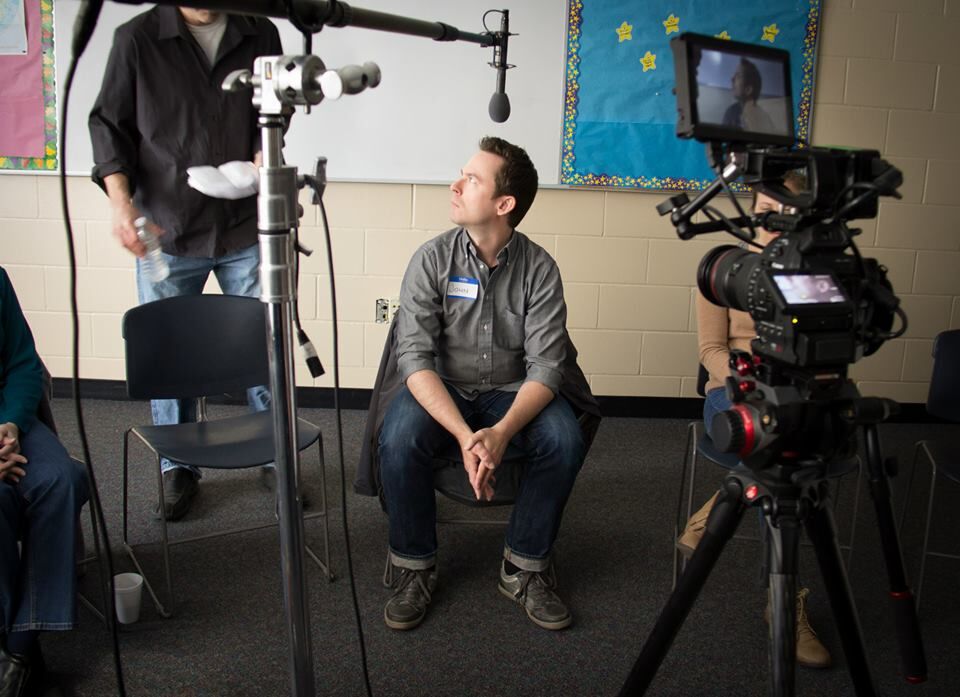 How does a composer write music that doesn't draw attention to itself? How can a director convey scoring ideas if they're not a musician? Why is temp music important for an editor?  When should sound design reflect the real world, and when should it be from a character's psychological perspective? Will the dialogue editor choose the lavalier or boom mic recording, or both?
These are just a few of the conversation-sparking questions we discuss in today's Composer Quest podcast episode (the season six finale!), featuring the team behind the upcoming film Twin Cities. You'll get to hear perspectives on film sound from a director/writer (David Ash), producer/editor (Jason P. Schumacher), sound designer (Mike Hallenbeck), and composer (me). We dissect the entire post-production sound process, from a spotting session with all four of us, to our experimental on-the-spot scoring session, which was very productive and slightly nerve-racking for me as the composer.
Audio clip: Adobe Flash Player (version 9 or above) is required to play this audio clip. Download the latest version here. You also need to have JavaScript enabled in your browser.
Right click to download Ep. 153, or open in iTunes.
Here's the trailer for Twin Cities:
Favorite Film Scores
Here are our favorite film scores we mentioned in this episode:
Mike Hallenbeck
The Good, the Bad, and the Ugly – Ennio Morricone
Donnie Darko – Michael Andrews
Risky Business – Tangerine Dream
The Road – Nick Cave and Warren Ellis
The Girl with the Dragon Tattoo – Trent Reznor and Atticus Ross
Love and Mercy – Atticus Ross
Hannibal (TV series) – Brian Reitzell
Moon – Clint Mansell
Kwaidan – Toru Takemitsu
Saw – Charlie Clouser
Charlie McCarron
Eternal Sunshine of the Spotless Mind – Jon Brion
Punch Drunk Love – Jon Brion
Dave Ash
There Will Be Blood – Jonny Greenwood
George Washington – Andrew Gillis
All the Real Girls – Michael Linnen and David Wingo
Taxi Driver – Bernard Hermann
Drive – Cliff Martinez
Lost Highway – Angelo Badalamenti
Mulholland Drive – Angelo Badalamenti
Jason P. Schumacher
Punch Drunk Love – Jon Brion
Fargo – Carter Burwell
Beasts of the Southern Wild – Dan Romer and Benh Zeitlin
Foxcatcher – Rob Simonsen
Secret of Kells – Bruno Coulais and Kíla
Subscribe to Composer Quest