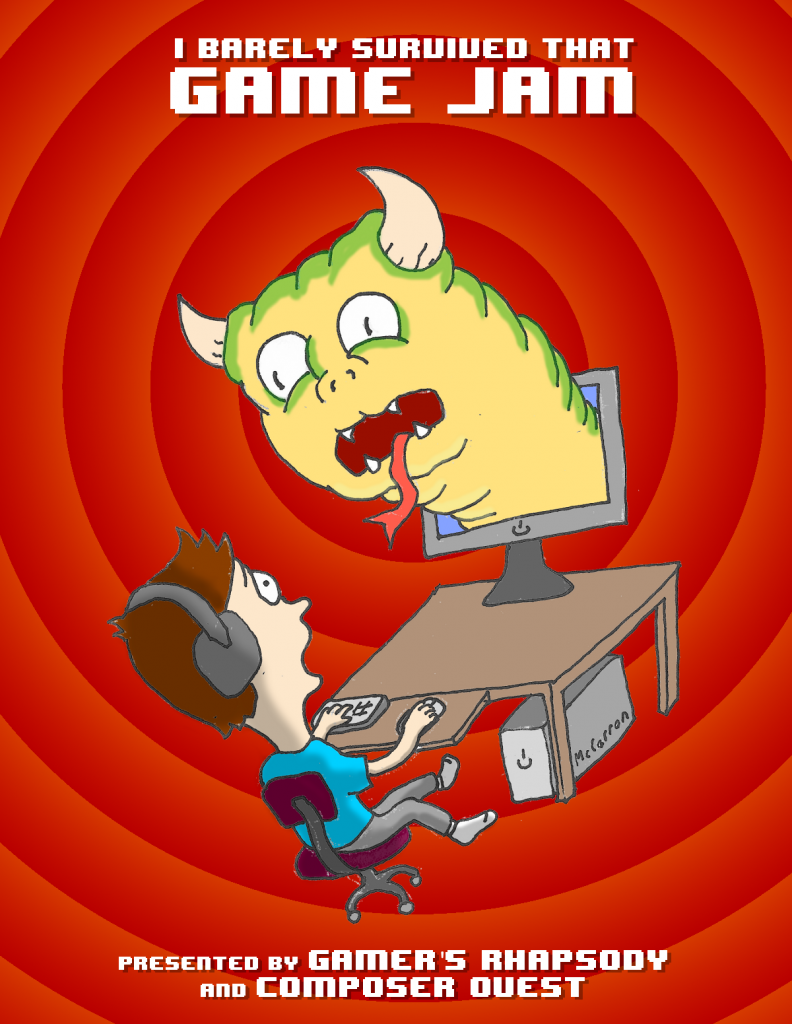 UPDATE: The game jam has begun!

If you've followed Composer Quest, you know that I challenge my listeners to complete composing "quests" every couple months. This fall, we'll be teaming up composers, game developers, artists, sound designers, etc. to create new video games from the prompt, "I Barely Survived That Game Jam."
We'll have a week of game jamming and composing (both in Minnesota and online), then whatever you come up with will be revealed to the public at the game media con Gamer's Rhapsody on Friday, November 13 at 7pm. Our guest panelists, Emily Reese (Top Score podcast, Joon Media) and Tim Turi (Game Informer), will play your game, bugs and all, and give feedback and encouragement. Here's the announcement episode with Emily, Tim, and Gamer's Rhapsody organizer Thomas Spargo:
Audio clip: Adobe Flash Player (version 9 or above) is required to play this audio clip. Download the latest version here. You also need to have JavaScript enabled in your browser.
Right click to download Ep. 125, or open in iTunes.
I'm really excited for this challenge! Please email me (charlie@composerquest.com) if you have any questions that aren't answered in the guidelines below.
Guidelines
Sign-ups
Sign up here by October 14th.
You can sign up as a composer or game developer, or you can enter another type of skill (art, sound design, etc.) and I'll try and pair you with teams who could use your help.
If you already know someone you'd like to work with, you'll be able to enter their name in the sign-up form.
Pairings will be made on a first-come, first-served basis, and I'll pair people up by location as much as possible, so you can meet your teammate(s) in person.
Schedule
Wednesday, October 14th, 11:59pm CST: Sign-ups end
Thursday, October 15th: Teams announced
Friday, October 16th, 7pm CST: Kickoff party in Minnesota (you can also participate online). The kickoff location will be emailed to you when you sign up.
Sunday, October 25th, 11:59pm CST: Games must be finished and sent to charlie@composerquest.com (details below)
Your Game
Your prompt is "I barely survived that game jam." You can go in any direction that quote inspires.
The game should be a new creation.
There are no length/size restrictions on your game, but keep in mind that the Gamer's Rhapsody panel will only have about 5 minutes to play your game.
If you're making a multiplayer game, or it's for something other than PC/Mac/web, please email me about the logistics of showing it off on the panel – charlie@composerquest.com.
Submitting
Send your finished game (.exe, .dmg, web link, etc.) to charlie@composerquest.com by 11:59pm CST on Sunday, October 25th. Please use Dropbox or WeTransfer.com so my inbox doesn't fill up.
Gamer's Rhapsody Reveal Party
The unveiling of games begins at 7pm on November 13th at Bloomington Ramada (2300 American Blvd E, Bloomington, MN 55425).
Teams will get 3 free tickets to Gamer's Rhapsody.
We will feature as many games as possible, but if we need to narrow it down, we will prioritize Minnesota creators who can attend the event.
After the panel playthrough and discussion, the floor will be open for the audience to play your game on your laptop/system. Bring headphones so people can listen to your game's music.
Legal
You, as the game creators, own your game. It's up to you to work out what that means. I'd suggest starting an email conversation with expectations of who owns what portion of the game, should you decide to distribute or sell your game.
Good luck, and let me know if you have any other questions – charlie@composerquest.com.
Subscribe to Composer Quest