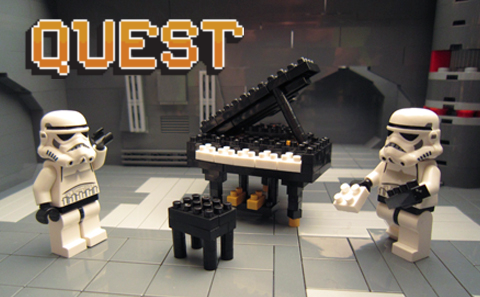 UPDATE: The quest is finished. Come hear the results at our Star Wars Day concert on May 4th (6pm, Underground Music Cafe).
In honor of Star Wars Day (May the 4th be with you), our eighth Composer Quest quest will involve the number four. Your challenge, should you choose to accept it, is to write a piano piece for four hands (two pianists at one piano). You're also encouraged to work the number four into your piece in other ways, like the harmony, rhythm, or form. The best pieces will be performed by Susan Hsu and Franco Holder here in Minnesota on May 4th (6pm, Underground Music Cafe).
Take a listen to this announcement episode with Susan, Franco, and Underground Music Cafe's owner Tim Cheesebrow to get inspired:
Audio clip: Adobe Flash Player (version 9 or above) is required to play this audio clip. Download the latest version here. You also need to have JavaScript enabled in your browser.
Right click to download Ep. 81, or open in iTunes.
When you finish your piece, send me a PDF and mp3 or MIDI file (charlie@composerquest.com) on or before April 23rd. Please note that Minnesota composers will be given priority for the performance, but all submissions will be looked at and considered.
Good luck, and may the force be with you!
Subscribe to Composer Quest
---