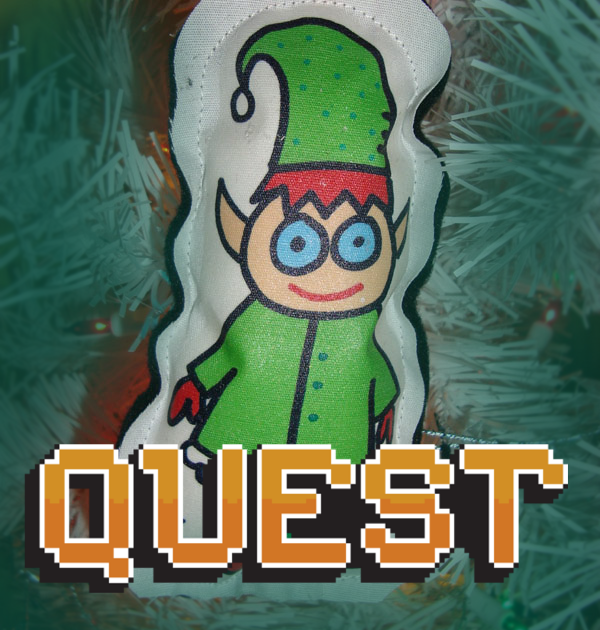 I hereby challenge you to the 4th Composer Quest quest! We will be writing songs for a new Christmas musical, to be performed by the first, second, and third graders at KMS Elementary (in the rural town of Murdock, MN). I wrote music for their Christmas musical last year, and it was a blast hearing my songs performed by these kids, who were so excited about it. Maia Hamann, from episode 10, teaches music at KMS, and she'll direct the musical. Her mom, Zita Hamann, taught at KMS Elementary for many years, and she has just written a fun story called Elfluenza.
In Elfluenza, the elves at the North Pole Teddy Bear Factory have fallen ill with a disease that causes them to dance and constantly shake their jazz hands. Santa and Mrs. Claus call on the KMS third graders to help save the day. I sat down to talk with Zita and Maia about this musical we're going to help write.
Audio clip: Adobe Flash Player (version 9 or above) is required to play this audio clip. Download the latest version here. You also need to have JavaScript enabled in your browser.
Right click to download Ep. 46, or open in iTunes.
Steps to Completing Quest 4
Listen to the podcast episode above.
Read the Elfluenza script, and decide which song(s) you want to try writing.
Mark those song(s) in the poll at the bottom of this post.
Write away!
Email a pdf of your sheet music (and a MIDI or mp3 demo if possible) to charlie@composerquest.com by 11:59pm CST on Sunday, September 15th. Feel free to email me before that with questions. Or you can email me to let me know what you're working on and how it's going.
Instrumentation
You don't have to use all of these instruments, but the more parts you can provide for the student instrumentalists, the better.
1st, 2nd, and 3rd grade choruses (they can sing from Middle C to E on the top space of the treble clef, but they're more comfortable in the lower part of this range)
3rd grade soloists (see the script for characters)
Piano (sight-readable by a skilled adult player)
Bass (sight-readable by a skilled adult player)
1-2 Recorder parts (beginners – range is D to D on the treble clef)
1 Violin part (beginners)
1 Guitar part (beginners – melody is preferable over chords)
1-3 Non-pitched percussion parts (jingle bells, bongo drum, shakers, wood blocks, triangle, tambourine, etc.)
1-2 Xylophone parts
Other Notes

The titles and lyrics in the script are just suggestions. Feel free to take creative liberties in your song.
If there are parts of the script you think could be sung instead of spoken, feel free to write a song based on that.
You can include instrumental sections in your songs, too.
The final songs will be chosen by Maia and Zita, based on catchiness, originality, performability, and pedagogical usefulness (can Maia use the songs to teach dynamics? Legato vs. staccato? Musical moods? Genres? Rhyming?).
I'll make an audio recording of the performance, which I'll share with you and feature on the podcast.
If your songs are chosen, we might find a way for you to talk with the students about your music via webcam, if you want. I had a Q&A session with the students last year, and it was fun!
Email me with any questions (charlie@composerquest.com).
Please fill out this poll to let everyone know what songs are being worked on. Just because a song is