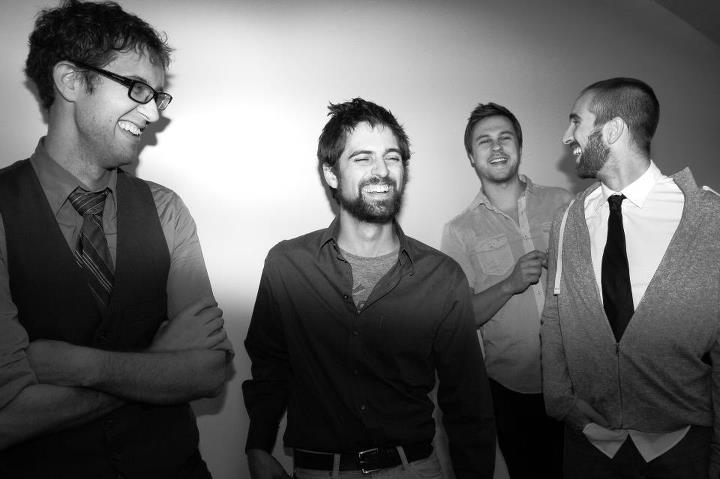 In episode 31 of Composer Quest, songwriter Matt Leavitt of the indie band Emot talks with me about his belief that the very first time you work on a song is often where the best ideas come from, and anything after that is just trying to recreate this spark of initial inspiration. We also get to hear Matt play a couple new tunes live from Emot's upcoming album, which they've been working on with producer Brian Moen (of Peter Wolfcrier and Laarks).
Audio clip: Adobe Flash Player (version 9 or above) is required to play this audio clip. Download the latest version here. You also need to have JavaScript enabled in your browser.
Right click to download Ep. 31, or open in iTunes.
Emot is:
Dan Choma – Drums, Keyboards, Sampling
Justin Hartke – Bass
Matt Leavitt – Vocals, Guitars, Banjo, Keyboards, Loops
Robert Mulrennan – Guitars, Loops
For more Emot music, visit their Bandcamp page and Facebook page. Their music is also available through Dan Choma's cassette label Run Ruby Red Records.
Episode Soundtrack
0:00 – Original Composer Quest theme by Matt Leavitt
0:60 – "Together" – Emot (Make You Electric, 2011)
1:27 – "Garbage Tones" – Emot (Upcoming album, 2013)
6:20 – "Animals" – Emot (Two Drunks, 2010)
7:30 – "Pleasure/Pressure" – Emot (Make You Electric, 2011)
15:43 – "Let's Find Your River" – Emot (Upcoming album, 2013)
20:47 – "Cheapskate" – Emot (Two Drunks, 2010)
23:07 – "Ancients" – Emot (Trees & Claws EP, 2012)
25:41 – "Purple Streaks" – Emot (Two Drunks, 2010)
28:44 – "Onion Face" – Emot (Make You Electric, 2011)
Check out this music video for "Garbage Tones," by Jason P. Schumacher:
Suggested Listening
Richard Buckner (one of Matt's favorite lyricists)
Califone (ambiguous lyrics from Tim Rutilli)
Animal Collective – Sung Tongs (repetitive guitar leads to higher-level listening)
Subscribe to Composer Quest
---