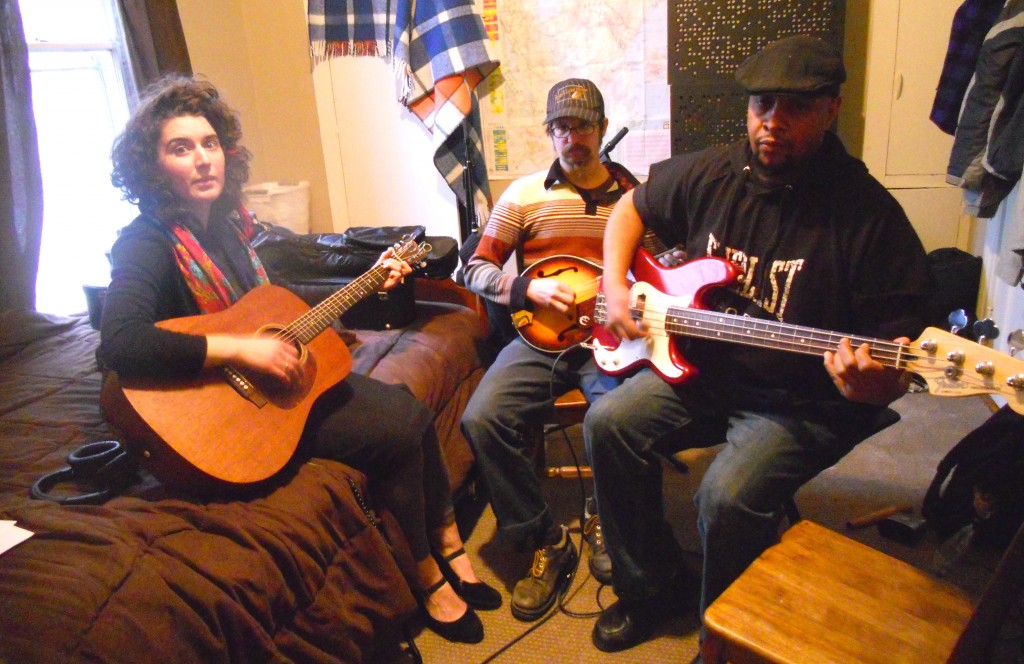 UPDATE: Maria has a Kickstarter project going to create a whole album based around Cain. Help her out if you're inspired!
Maria Isabel Ruff-Berganza gathered together her band of self-described "wanderers" to record the first in a series of songs she has written about Cain.
Canto Di Caino
By Maria de las Nieves
Maria Isabel Ruff-Berganza – Vocals, Lyrics
George Murphy – Bass
Micah Scott – Mandolin, Acoustic Guitar
Daniel Ruff Smith – Djembe, Percussion
Ross Charmoli – Congas
Charlie McCarron – Violin, Electric Guitar
Canto di Caino, Canto de moribundo
I sing of Cain, walks the whole mundo,
Wanderlust aching, corazon breaking,
He looks free but won't see what he is forsaking
His brother, Abelito, lies in the dust
For work of Cain's hands made a jealous thrust
And we have passed on to another age now
But all of Cain's children still wondering…
How do we till the soil, how will we be free?
Who will deliver the fruit from our tree?
Sordo with anger
Bitter with pain
Pinchada con pride and human disdain
We march in production, we dance in our flight
We wake to the light for a self-imposed night
Walk and we don't know which way we will turn
How best to distract from how we still yearn
How do we till the soil, how will we be free?
And who will deliver the fruit from the tree
Sordo with anger, amarga con pain
Swollen with pride, do we toil in vain?
How will I by solita become what I should
My spine, a serpent that soon strays from good
My hands, two birds, that disown their own kin
My belly bare soil depraved from within
I bend down like spider and reach everywhere
Electric, world shrinking web of despair
How can I till the soil, how be freed?
Which Cain can deliver the fruit from my tree?
So swollen with anger, so swollen with pain
Pinchada with pride, labor of the vain
Canto di Caino, Canto de moribundo
I sing of Cain, walks the whole mundo,
Wanderlust aching, Corazon breaking,
He looks free but won't see what he is forsaking
Behind the Song
I edited together a little behind the scenes for this one. Maria explains her interest in Cain and why the song's title is Italian, while the rest is Spanish and English.
It was a treat producing this song. The musical base of the song originated with Micah and George, and Maria came up with the vocal melody and rhythm. So the first step was recording Micah on mandolin and George on electric bass, to get a solid rhythm track. Although I usually have people play to a metronome, this song seemed like it needed to be free from a click. And luckily these guys were spot on with their rhythms.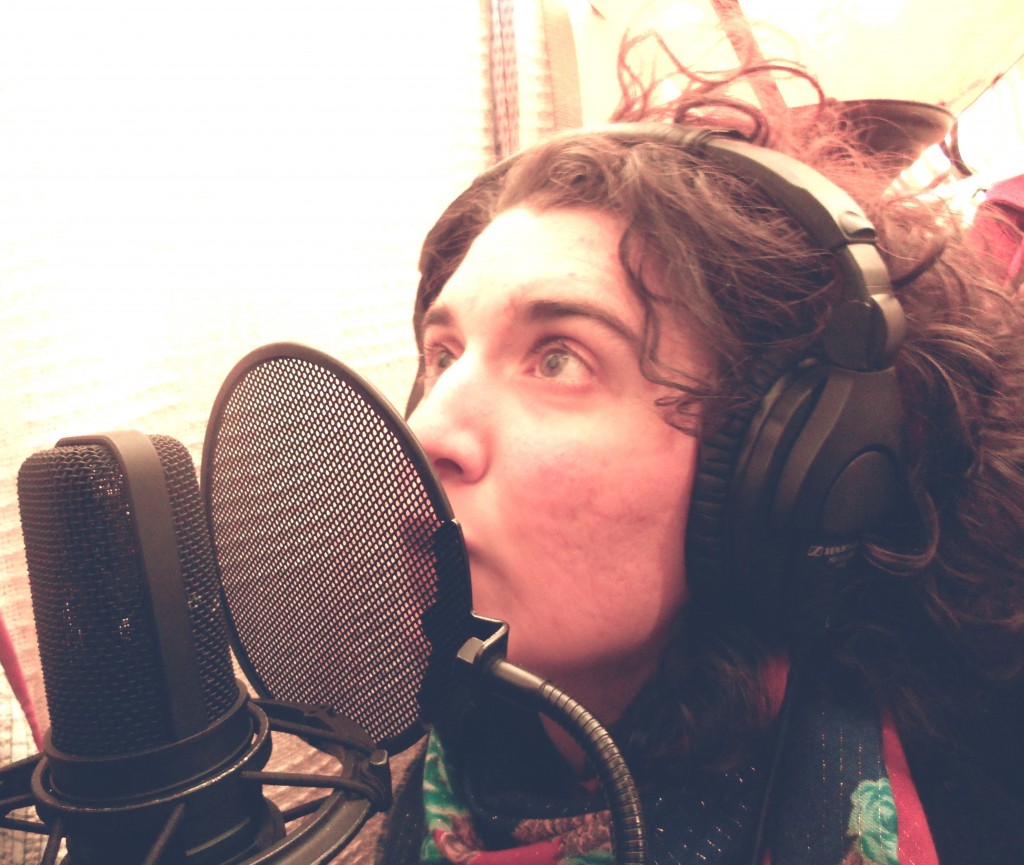 Once we got the rhythm track down, we recorded Maria's lovely vocals. Each take had super expressive and interesting parts, so I ended up using the best pieces of each take. We were both on the same page when we heard something that stood out above the rest.
The next step was letting Micah go nuts and record a bunch of mandolin and guitar parts. I would have kept him recording all day, since his solos were getting more and more interesting, but he stopped and said that's probably enough for one day. And I did have more than enough to work with at that point. I think the guitar/mandolin double solo at the 2:10 mark is a testament to what this guy can do.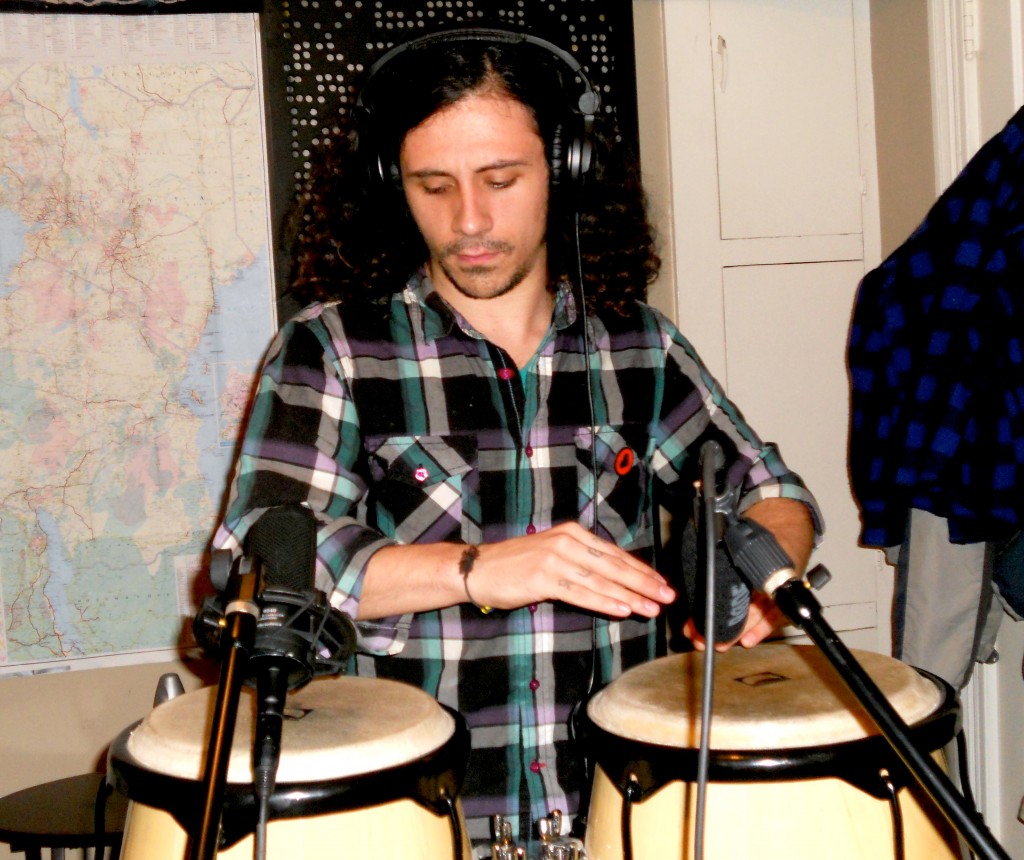 Next up was the percussion section. McNally Smith student Ross Charmoli came over with a pair of congas. I ended up placing one mic over each conga to get the crisp hand hits, and one mic underneath each conga to get a bassy tone.
Maria had an ace in the hole with her cousin, Daniel Ruff Smith, who came over with his djembe to lay down the base percussion track. He also recorded shaker and cowbell (muted, because it was too ring-y). I felt like it needed one more counter-rhythm, and I thought wooden claves would sound perfect. But since we only had one wooden stick with the cowbell, we had to improvise. We tried hitting it against all sorts of wooden surfaces, but it just sounded dead. Finally my roommate Jeff handed us a Mag-Lite flashlight, which worked surprisingly well as our second clave.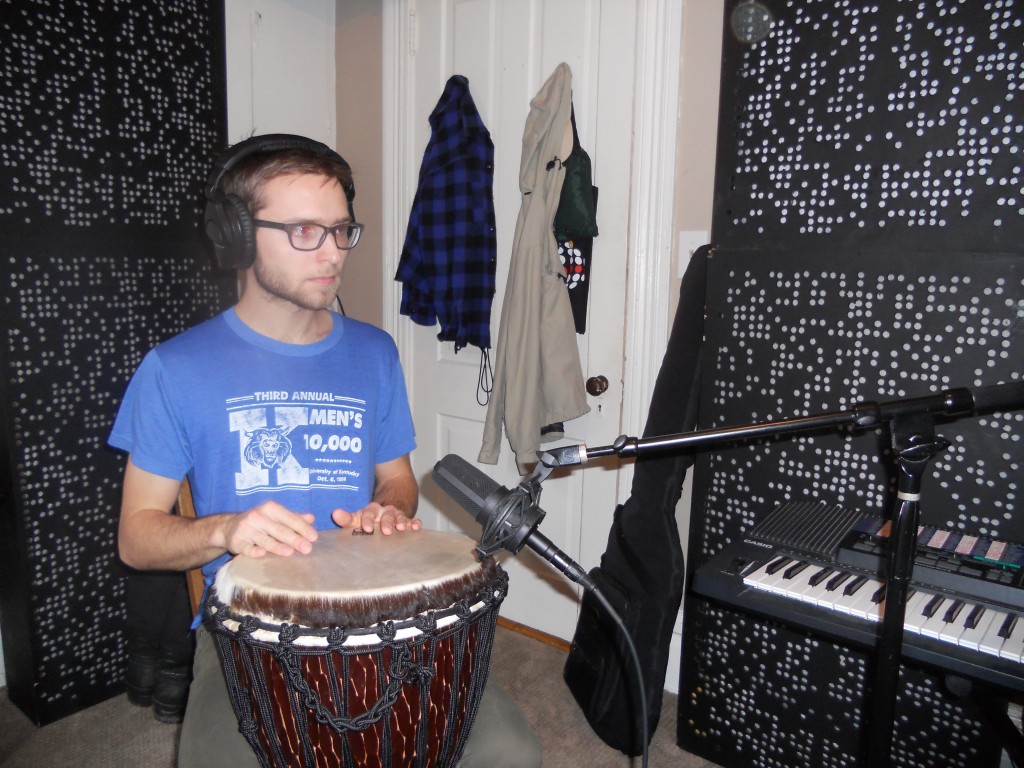 I'm excited to hear Maria's other songs for her Cain project, especially since "Canto Di Caino" is the very first song she wrote for it. I'll spread the word when Maria de las Nieves has some more recordings to share with the world.