If you'd rather listen to this blog post, check out episode 22 of my music production podcast.
I was inspired by my interview with Cyriak Harris to create a piece of music purely by visually entering MIDI. Although Cyriak listens back and tweaks the notes as he goes, I decided to take it to another level and turn off my speakers until I was totally finished. I also tried to avoid anything I would normally do to make it musically "right," and just make visually-interesting patterns.
My plan was to draw in three different MIDI layers, choose the synth sounds randomly for each of them, then listen back. After finishing each track, here's the beautiful masterpiece I got to hear as a result.
Audio clip: Adobe Flash Player (version 9 or above) is required to play this audio clip. Download the latest version here. You also need to have JavaScript enabled in your browser.
I could see it would need tweaking if I was actually going to make something listenable out of it. Let's take a listen to each track.

For instrument A, I tried making some hill and mountain-type shapes. The restriction I gave myself was that there would only be one note playing at a time. I also never repeated the same note twice in a row. Here's what it sounded like after adding an Ableton Live synth sound called "Saw Bleep."
Audio clip: Adobe Flash Player (version 9 or above) is required to play this audio clip. Download the latest version here. You also need to have JavaScript enabled in your browser.
I wasn't really thinking about how fast this would be in real time. More on that in a bit.

For instrument B, I wanted to make something a little less dramatic and scattered, and more repetitive. Here's what that sounded like, with a synth accordion sound.
Audio clip: Adobe Flash Player (version 9 or above) is required to play this audio clip. Download the latest version here. You also need to have JavaScript enabled in your browser.
For instrument C, I thought I'd try doing something like the Shepard Tone illusion, where the music seems to rise up infinitely like a barber pole.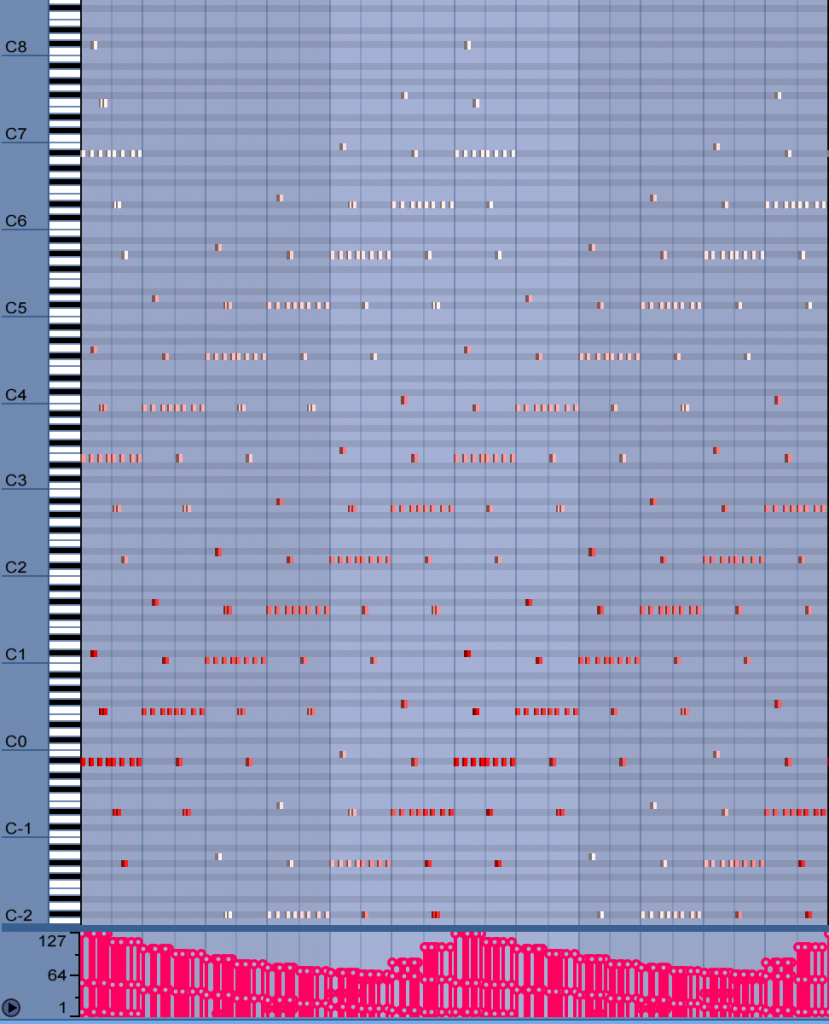 I picked a sound called "Mushroom Square Bleep," which sounded fun.
Audio clip: Adobe Flash Player (version 9 or above) is required to play this audio clip. Download the latest version here. You also need to have JavaScript enabled in your browser.
Well, that was cool, but nothing like I expected. I realized that this mushroom instrument I picked was monophonic, so only one note would play at once, making my barber pole effect pointless. It was time to try tweaking each instrument for version 2.
Version 2
For instrument A, I decided to slow it way down, so it wasn't just a flurry of notes.
Audio clip: Adobe Flash Player (version 9 or above) is required to play this audio clip. Download the latest version here. You also need to have JavaScript enabled in your browser.
For instrument B, I changed the synth from accordion to "Dance Stab Bleep" to make it interplay a little better with instrument A's pluckiness.
Audio clip: Adobe Flash Player (version 9 or above) is required to play this audio clip. Download the latest version here. You also need to have JavaScript enabled in your browser.
For instrument C, I slowed it down and changed it from monophonic to polyphonic, so it would play multiple notes at once.
Audio clip: Adobe Flash Player (version 9 or above) is required to play this audio clip. Download the latest version here. You also need to have JavaScript enabled in your browser.
Here's what the three tracks sounded like together:
Audio clip: Adobe Flash Player (version 9 or above) is required to play this audio clip. Download the latest version here. You also need to have JavaScript enabled in your browser.
Version 3
After listening a few times, I was liking the rhythmic groove starting to take shape, but I still felt like the pitches were too random to actually enjoy it. I had a flash of inspiration to add a MIDI effect that would limit these notes to a C Major scale. In Ableton, this effect is called "scale," and it takes each MIDI note and essentially "rounds up" to make it fit within the scale.
After C-Major-ifying each track, here's what they sound like:
Audio clip: Adobe Flash Player (version 9 or above) is required to play this audio clip. Download the latest version here. You also need to have JavaScript enabled in your browser.
Ahhh…slightly more pleasant!
Version 4
For the next version, I decided to try adding key changes, so it wasn't all in C Major. There's an easy way to do that with Ableton's scale effect, by adjusting the "transpose" parameter.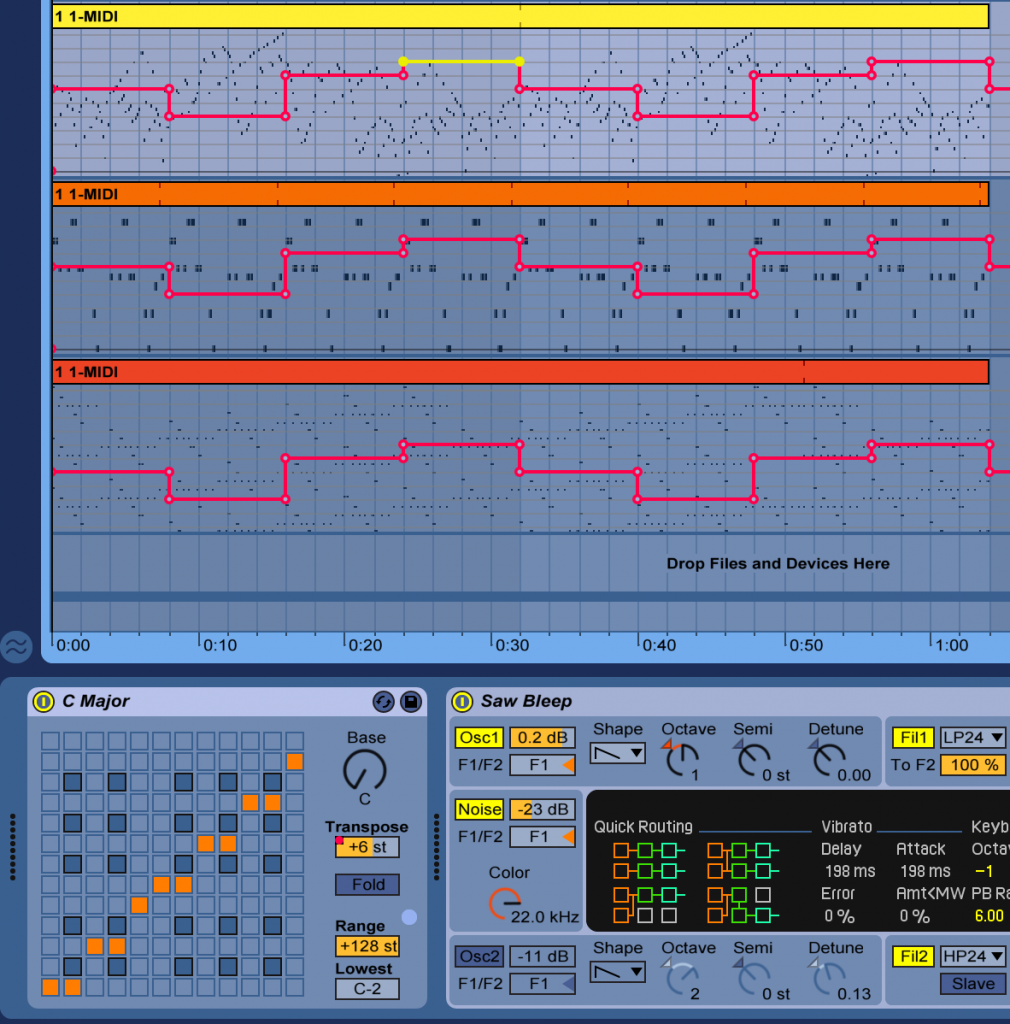 By changing the key every four measures, it seemed to give direction to these random notes.
Before we hear this new version, here are the changes I made to each instrument:
Instrument A got a delay, for stereo goodness.
Audio clip: Adobe Flash Player (version 9 or above) is required to play this audio clip. Download the latest version here. You also need to have JavaScript enabled in your browser.
I changed the synth in instrument B to have a longer sustain and release. This small change seemed to add the most musically interesting element yet, and kind of glued the track together.
Audio clip: Adobe Flash Player (version 9 or above) is required to play this audio clip. Download the latest version here. You also need to have JavaScript enabled in your browser.
For instrument C, I finally ditched the mushroom synth and added one called "Plucked1 Buzzy Bass." I also added the same delay I used with instrument A.
Audio clip: Adobe Flash Player (version 9 or above) is required to play this audio clip. Download the latest version here. You also need to have JavaScript enabled in your browser.
I noticed that what I was hearing as beat 1 was a little off in each instrument, so I played around by offsetting the timing of the tracks to make it a little easier to follow. Here's what the full mix sounded like:
Audio clip: Adobe Flash Player (version 9 or above) is required to play this audio clip. Download the latest version here. You also need to have JavaScript enabled in your browser.
Version 5
Now it was time to get into full tweaking mode. I added a ton of automation, meaning changing different parameters of my effects over time. This helps make a track feel like it evolves and has direction to it, even if it has randomly-generated notes. I also decided it wasn't too much against my rules to add a drumbeat, so I went for a classic drum machine sound.
Audio clip: Adobe Flash Player (version 9 or above) is required to play this audio clip. Download the latest version here. You also need to have JavaScript enabled in your browser.
This is actually a composite of three different drumbeats:
Audio clip: Adobe Flash Player (version 9 or above) is required to play this audio clip. Download the latest version here. You also need to have JavaScript enabled in your browser.
Audio clip: Adobe Flash Player (version 9 or above) is required to play this audio clip. Download the latest version here. You also need to have JavaScript enabled in your browser.
Audio clip: Adobe Flash Player (version 9 or above) is required to play this audio clip. Download the latest version here. You also need to have JavaScript enabled in your browser.
Here's what the final mix was sounding like:
Audio clip: Adobe Flash Player (version 9 or above) is required to play this audio clip. Download the latest version here. You also need to have JavaScript enabled in your browser.
Version 6
Even though this track is super busy, it seemed like it was missing something. I realized I was really craving a steady bass line, to ground the track. I found a simple bass sound, doubled it an octave up, and added a bit of grunge to it:
Audio clip: Adobe Flash Player (version 9 or above) is required to play this audio clip. Download the latest version here. You also need to have JavaScript enabled in your browser.
I think it's really cool how a single bass note can give context to everything else going on. If the bass note isn't what you expect, it can give a ton of depth and tension to a simple chord happening above it. I might have gone overboard with that idea in this track, but oh well. It was a fun experiment.
Before I play the full track, I want to remind you that you can find all of these production lessons at composerquest.com/cmpl, or search on iTunes for Charlie's Music Production Lessons. Thanks for listening! Here's the final track, which I'm calling VMI (for Visual MIDI Improvisation).
Audio clip: Adobe Flash Player (version 9 or above) is required to play this audio clip. Download the latest version here. You also need to have JavaScript enabled in your browser.
You can find more production lessons in my "Charlie's Music Production Lessons" page.