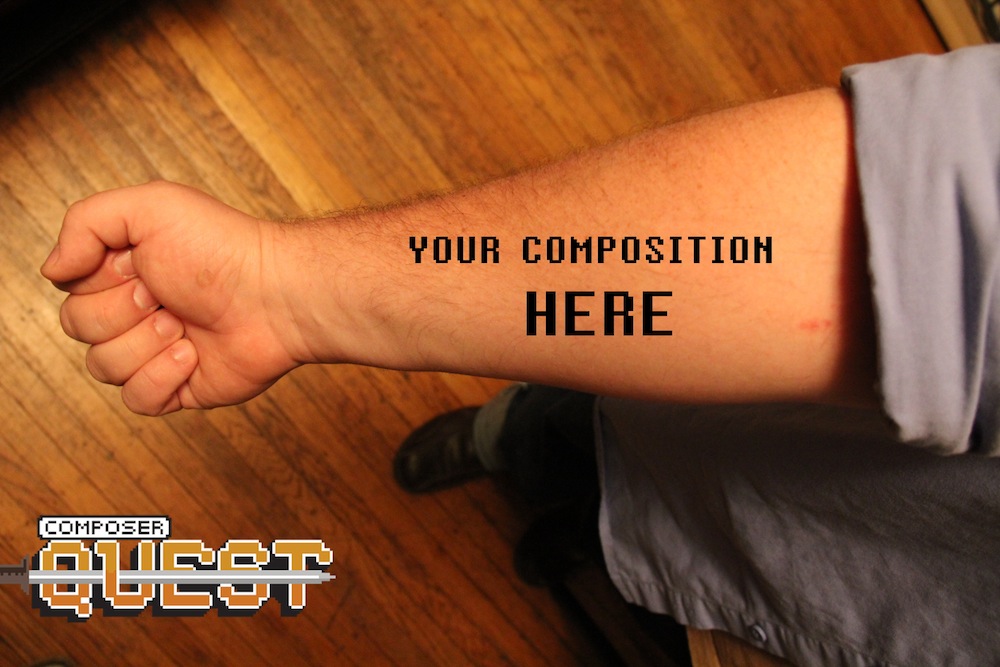 I'm excited to announce our next composing quest, courtesy of Tim Cheesebrow and his forearm. Tim has been looking for a way to commemorate his family tree through music, and he's decided to leave it to Composer Quest listeners to write a "Cheesebrow family" melody. Tim will then choose his favorite composition, and TATTOO IT ON HIS ARM.
I interviewed Tim for more insights on what he's looking for in this arm-sized composition.
Audio clip: Adobe Flash Player (version 9 or above) is required to play this audio clip. Download the latest version here. You also need to have JavaScript enabled in your browser.
Right click to download Ep. 132, or open in iTunes.
Tattoo Challenge Details
Composition must be from 4 to 8 measures long, on a grand staff (treble and bass clef).
Composition must represent Tim's family tree (see below) in a way that can be explained, with clear rules to follow for future children added to the family.
Composition is due by 11:59pm Central on Wednesday, Dec. 9th to charlie@composerquest.com. Send the sheet music as a PDF, plus your explanation of how the composition relates to Tim's family tree, and rules for expanding it. Also, please send a demo mp3 file or MIDI file (mp3s through dropbox or wetransfer.com).
Tim will choose his favorite composition and have it tattooed on his arm in early 2016.
Tim's Family Tree
My Grandparents:
Dad's side:
Jerome Riley Cheesebrow – 10/02/1920-09/09/04
Dorothy Alice Cheesebrow(Coleman) – 02/14/1926-01/23/1996
Mom's Side:
Robert Douglas Thayer – 12/20/1931-01/18/1986
Elizabeth Ann Thayer (Karthieser) – 05/22/1937-
Parents:
Dennis Michael Cheesebrow – 4/8/1956-
Bonnie Elizabeth Cheesebrow (Thayer) – 06/14/1958-
Brothers:
John Daniel Cheesebrow – 04/15/1985- (married Allison Broza – 4/1/1986, child Lee Cheesebrow – 11/5/2014)
Paul Dennis Cheesebrow – 03/09/1988-
Our Family:
Me: Tim Michael Cheesebrow – 2/21/1982-
Wife: Jenn Lynn Cheesebrow – 12/09/1982-
Children:
Miscarriage 1 – 07/2009
Finn Michael Cheesebrow – 08/01/2010-
Dylan Riley Cheesebrow – 02/07/2012-
Miscarriage 2 – 09/2015
Subscribe to Composer Quest