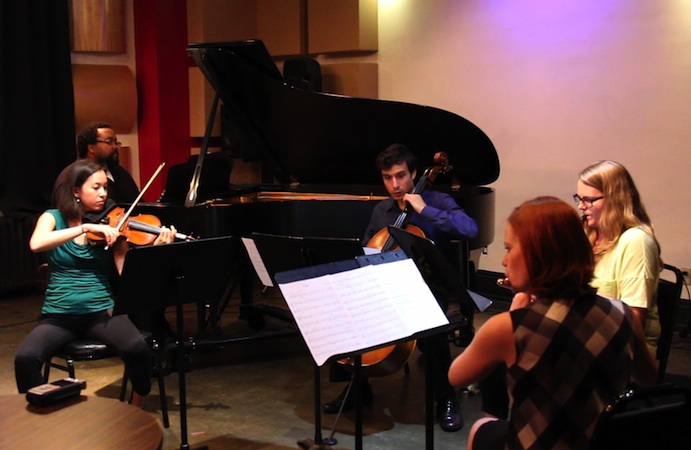 Last night I got to hear a wonderful performance of a new quintet composition of mine. I wrote it in hopes that I'll be picked for a trip to Cuba through the American Composers Forum. The ensemble Third Sound is going to perform pieces from a few lucky composers, who will also travel to Cuba.
I thought I'd put together a quintet to perform this piece at last night's New Ruckus concert at Studio Z. Here's "Vines" for flute, clarinet, violin, cello, and piano:
My starting point for this composition was the piano part, with a constant 2-against-3 rhythm to keep some head-bobbing momentum going. From there, I tried to give each instrument interesting and interweaving motives (the vines!). As our flutist Bethany pointed out, this constant stream of unique parts forces the ensemble to listen more carefully to each other.
One compositional trick I used was inversion. I took motives in each instrument and flipped the notes upside-down the second time they appear. The mirroring axis is the note G. To give you a visual, here are the MIDI notes for the regular violin part (at 0:58 in the video):
Here are the MIDI notes for the inverted violin part (at 3:37 in the video):

Thanks for listening! If you'd like the sheet music, please email me – charlie@charliemccarron.com.