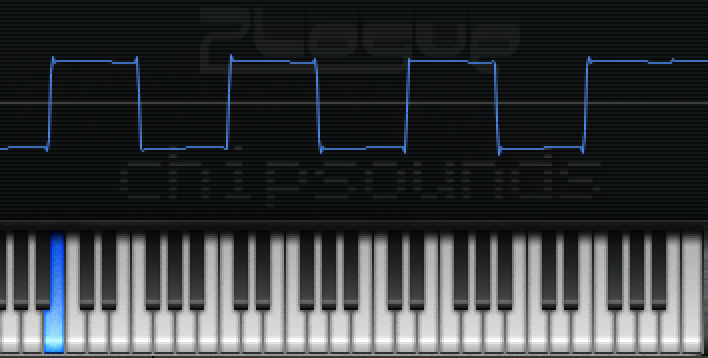 If you'd rather listen to this article than read it, check out Episode 20 of the Charlie's Music Production Lessons podcast.
Challenging yourself to rearrange a piece of music is a good way to practice your composing skills without having to start from scratch. This week, I made it my goal to transform a cheesy soap opera theme into something that I'd actually want to listen to. In the end, it turned into an old-school video game track.
Let's take a listen to this intentionally cheesy theme I made, and try to analyze what makes it sound like a soap opera:
Audio clip: Adobe Flash Player (version 9 or above) is required to play this audio clip. Download the latest version here. You also need to have JavaScript enabled in your browser.
I think the cheesiness of this music boils down to four main things:
First, the piano. It's clearly synthetic, and the block chord accompaniment is pretty uninspired. The piano melody is simplistic, with a lot of lines that just go up and down the scale. I think of it like wallpaper over the track, because it just keeps going without any breaks.
Audio clip: Adobe Flash Player (version 9 or above) is required to play this audio clip. Download the latest version here. You also need to have JavaScript enabled in your browser.
Second, the drums are a little too polished and shiny, and when they're paired with the piano, they sound extra synthetic. I also use a simple Bossa Nova-type rhythm, perfect for elevator music.
Audio clip: Adobe Flash Player (version 9 or above) is required to play this audio clip. Download the latest version here. You also need to have JavaScript enabled in your browser.
Third, the electric guitar has a classic 90s sound, with a chorus effect and a bend thrown in for good measure.
Audio clip: Adobe Flash Player (version 9 or above) is required to play this audio clip. Download the latest version here. You also need to have JavaScript enabled in your browser.
Finally, the synth strings. They wouldn't be terrible in another song if they had more reverb and were buried in the background. But again, in the context of all the other instruments, they sound pretty terrible.
Audio clip: Adobe Flash Player (version 9 or above) is required to play this audio clip. Download the latest version here. You also need to have JavaScript enabled in your browser.
So now that I had a cheesy and awful piece of music, I challenged myself to make it into something I'd actually want to listen to. I wasn't sure what that meant, but I knew that it would require changing the instruments and arrangement. Since most of my tracks were MIDI, it would be pretty easy to rearrange everything.
My first target was the blocky piano accompaniment. It's never bad to start a composition using block chords, but eventually you'll probably want to replace them with more interesting rhythms and voicings. So in this case, I salvaged these boring chords by using a MIDI arpeggiation effect, set to make random arpeggios out of the chords. I also switched to a marimba sound for the heck of it.
Audio clip: Adobe Flash Player (version 9 or above) is required to play this audio clip. Download the latest version here. You also need to have JavaScript enabled in your browser.
Next, I knew I wanted to split up the melody so one instrument wasn't playing the whole thing. If I'm feeling like a melody is too overbearing, I sometimes try making it into a call and response thing, so each instrument has space between their phrases. I tried doing this with flute and clarinet.
Audio clip: Adobe Flash Player (version 9 or above) is required to play this audio clip. Download the latest version here. You also need to have JavaScript enabled in your browser.
I already liked this better than the soap opera version, but I felt like the melody was still going to sound cheesy, no matter what instruments I used. So I decided to go with a genre that thrives on simple, playful melodies: chiptune music!
While I was converting the instruments to Plogue Chipsounds synths, I had a flash of inspiration to make the rhythms swung instead of straight. It just took a click of a button to change the arpeggios to a swung beat.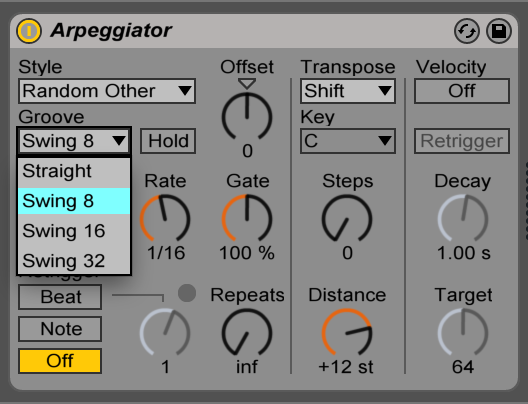 Audio clip: Adobe Flash Player (version 9 or above) is required to play this audio clip. Download the latest version here. You also need to have JavaScript enabled in your browser.
For the melody, I kept the same call and response idea I used with the flute and clarinet, just with two chiptune instruments
Audio clip: Adobe Flash Player (version 9 or above) is required to play this audio clip. Download the latest version here. You also need to have JavaScript enabled in your browser.
I kept the same drumbeat, just swung, and replaced with chip drums.
Audio clip: Adobe Flash Player (version 9 or above) is required to play this audio clip. Download the latest version here. You also need to have JavaScript enabled in your browser.
The bass part was almost the same as my soap opera version, but with a little more space between the notes, and a few more notes on upbeats to keep the momentum going.
Audio clip: Adobe Flash Player (version 9 or above) is required to play this audio clip. Download the latest version here. You also need to have JavaScript enabled in your browser.
Here's the original bass for comparison.
Audio clip: Adobe Flash Player (version 9 or above) is required to play this audio clip. Download the latest version here. You also need to have JavaScript enabled in your browser.
Here's my final chiptune mix, called "All My Chiptunes."
Audio clip: Adobe Flash Player (version 9 or above) is required to play this audio clip. Download the latest version here. You also need to have JavaScript enabled in your browser.
I think this chiptune track would need some fine tuning if I was actually going to use it in a video game. Listening back, the melody synths sound a little high-pitched and harsh. But I think I succeeded in my mission to make this theme a little more listenable than the soap opera version.
I hope you enjoyed this production lesson. Maybe someday you'll also try this challenge of transforming one of your songs into a completely different style. If you're interested in more production lessons like this one, visit composerquest.com/cmpl, or search for "Charlie's Music Production Lessons" in your podcast app of choice.