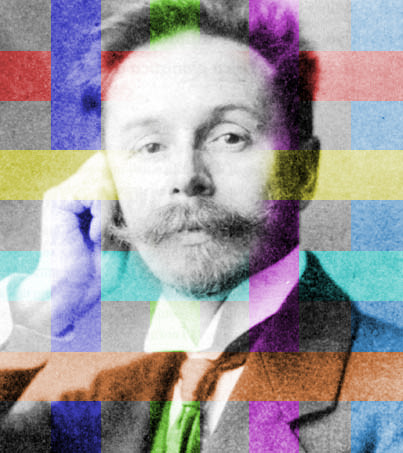 Update: The contest winner has been announced! Listen to the Composer Quest episode below or scroll to the very bottom if you can't stand the suspense.
Audio clip: Adobe Flash Player (version 9 or above) is required to play this audio clip. Download the latest version here. You also need to have JavaScript enabled in your browser.
Right click to download Ep. 114, or open in iTunes.
100 years after the death of Alexander Scriabin, his music lives on in a form he would never have expected. A week ago, I announced the Patchwork Scriabin quest along with UniqueSound, and 49 people contributed to our Scriabin "sound quilt" by recording a measure of his Prelude in A minor, Op. 11 No. 2. I'm excited to present our final mashup, with 68 uniquely-produced measures. You'll hear trombones, bells, accordions, chiptune synths, wine glasses, dog growls, dance beats, and much more.
The Results
We actually had TWO people earn 4 votes each, so we have a two-way tie for first place. The winners are Timon Wientzek (measure 46 at 1:08) and Thom Robson (measure 49 at 1:15)! Congrats guys! They'll split the winnings and receive $50 each from UniqueSound.
If you're interested in being notified of future challenges like these, make sure you're subscribed to the Composer Quest email list and the UniqueSound email list (at the bottom of this post).
Credits
Here's where our participants live: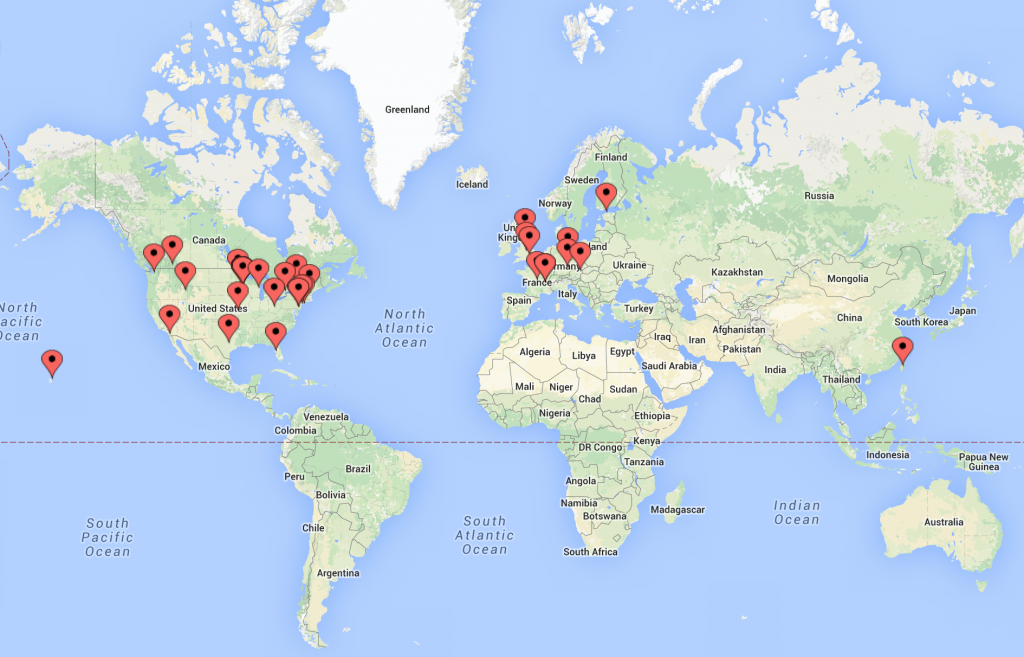 Here are the measure credits (see the score for reference):
| | |
| --- | --- |
| 1 | Michael Chadwick |
| 2 | Charlie McCarron |
| 3 | Johannes Schäbel |
| 4 | Charlie McCarron |
| 5 | Mandy Fassett & Michael Maiorana |
| 6 | Valentin Lafort |
| 7 | William E. |
| 8 | Mary Beth Huttlin |
| 9 | Deborah Young |
| 10 | Gerry Mayer |
| 11 | Valentin Lafort |
| 12 | Zach Adams |
| 13 | Gene Pritsker |
| 14 | Noah Keesecker |
| 15 | Benjamin Burnes |
| 16 | Erik Ostrom |
| 17 | Johannes Schäbel |
| 18 | Jean-Pierre VIAL |
| 19 | Pete Scott |
| 20 | Luke Thomas |
| 21 | Dan Wheeler |
| 22 | Charlie McCarron |
| 23 | Erik Ostrom |
| 24 | Liam Moore |
| 25 | Paul Sampson |
| 26 | Daniel Nass |
| 27 | Benjamin Burnes |
| 28 | Charlie McCarron |
| 29 | Daniel Jorgensen |
| 30 | Marc-André Mongeon |
| 31 | Luke Thomas |
| 32 | Liam Moore |
| 33 | Santiago Dolan |
| 34 | Timothy brandl |
| 35 | Caleb Hines |
| 36 | Daniel Bailey |
| 37 | Denise Hudson |
| 38 | Jon Pereira |
| 39 | Santiago Dolan |
| 40 | Alex Samuel |
| 41 | Kaspar Torn |
| 42 | Elain Klopke |
| 43 | Max Wanderman |
| 44 | Caleb Hines |
| 45 | Sabrina Duval |
| 46 | Timon Wientzek |
| 47 | Tom Snively |
| 48 | Daniel Nass |
| 49 | Thom Robson |
| 50 | Jean-Pierre VIAL |
| 51 | Mike Manor |
| 52 | Paul Sampson |
| 53 | Jackson LaBaugh |
| 54 | Mary Beth Huttlin |
| 55 | Nick Syman |
| 56 | Will Robertson |
| 57 | Michael Chergosky |
| 58 | Johannes Schäbel |
| 59 | Mick Bordet |
| 60 | Mick Bordet |
| 61 | Polloxtyuriam |
| 62 | Josh Wilson |
| 63 | Gene Pritsker |
| 64 | Pete Scott |
| 65 | Jean-Pierre VIAL |
| 66 | Brent Magstadt |
| 67 | Ben Taggart |
| 68 | Tony Schulte |