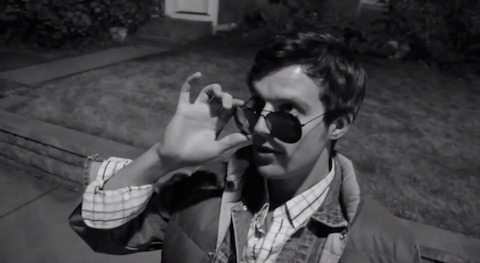 My talented friend Tyler Tholl evaded coming on the Composer Quest podcast for over a year, but finally my pestering paid off. I was really excited to visit Tyler in his studio and see the man behind the curtain at work. His new Maple & Beech EP Flashes & Floaters (made with drummer Pete James Johnson from episode 15) sounds amazing, and in this episode we get a thorough dissection of the composition and music production techniques Tyler used. We also talk about Tyler's producing for the new Borderline EP by Paul Spring (from episode 11). Stick around until the end, and you'll get to be a fly on the wall in Tyler's studio, as he produces the intro theme to this Composer Quest episode on the spot.
Audio clip: Adobe Flash Player (version 9 or above) is required to play this audio clip. Download the latest version here. You also need to have JavaScript enabled in your browser.
Right click to download Ep. 87, or open in iTunes.
The Flashes & Floaters EP will be available as a free download on May 6th, but you can listen to the first track in advance on Bandcamp, along with the Older Tides EP.
Paul Spring's Borderline EP is available now on Bandcamp.
If you're in Minnesota, make sure to check out the triple (!) EP release show of Maple & Beech, Paul Spring, and Dylan McFarling.
Subscribe to Composer Quest
Episode Soundtrack
0:00 – Original Composer Quest theme by Tyler Tholl
0:15 – "Elvis Taxon" by Maple & Beech (Older Tides)
0:45 – "Are You Lonely" by Ryan Ruff Smith (Everything Seemed to Happen at Once)
1:06 – "After the Ice Age" by Maple & Beech (Older Tides)
1:52 – "Moth Bully" by Maple & Beech (Flashes & Floaters)
2:00 – "Borderline" by Paul Spring (Borderline)
2:19 – "Low Tides" by Maple & Beech (Older Tides)
3:53 – "Flashes & Floaters" by Maple & Beech (Flashes & Floaters)
11:09 – "Carrier Giant" by Maple & Beech (Flashes & Floaters)
14:30 – "Elvis Taxon 2" by Maple & Beech (Flashes & Floaters)
31:00 – "Beachcomber" by Maple & Beech (Older Tides)
36:59 – "Piraeus" by Maple & Beech (Maple & Beech)
---