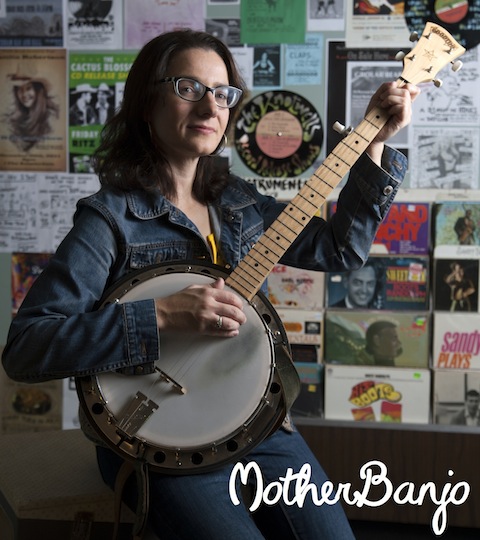 Ellen Stanley (aka Mother Banjo) brought her banjo over to the Composer Quest studio to share some songs and stories. We talk about everything from her Walden-inspired song to her unusual connection to Paul McCartney. In addition to her banjo-playing career, Ellen is the executive director of the Minnesota Music Coalition, and she worked as a music publicist for the folk label Red House Records. So she also shares some advice on networking, getting airplay, etc.
Audio clip: Adobe Flash Player (version 9 or above) is required to play this audio clip. Download the latest version here. You also need to have JavaScript enabled in your browser.
Right click to download Ep. 76, or open in iTunes.
Subscribe to Composer Quest
Episode Soundtrack
All the music in this episode was written by Ellen Stanley and the Mother Banjo Band. For more info, visit MotherBanjo.com. You can also listen to Mother Banjo songs on her SonicBids site.
0:00 – "No Waiting" (The Devil Hasn't Won, 2013)
1:10 – "Rise Up, Sinner" (The Devil Hasn't Won, 2013)
7:57 – "Come Life" (Composer Quest live performance, originally from Swing Low, 2007)
17:07 – "Firebird" (Stray Songs, 2011)
21:09 – "The Devil Hasn't Won" (The Devil Hasn't Won, 2013)
23:41 – "New (Featuring John Hermanson (Storyhill, The Hopefuls))" (Stray Songs, 2011)
24:48 – "New" (The Devil Hasn't Won, 2013)
33:33 – "A Bird Apart" (Composer Quest live performance)