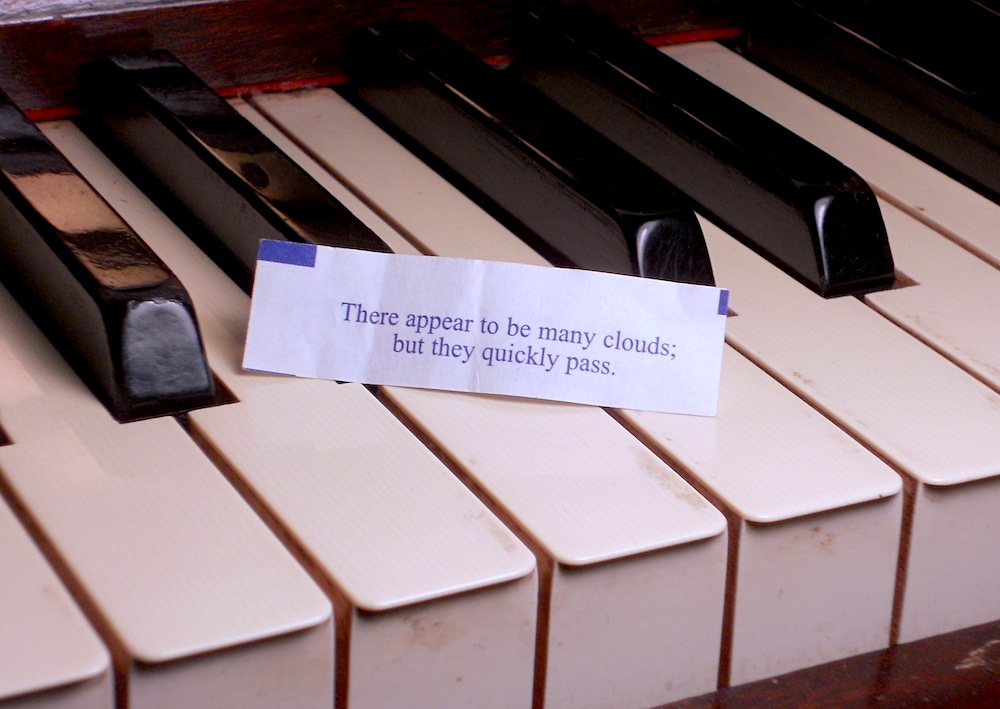 UPDATE: This quest is now finished. Check out the results here.

Have you ever drawn a fortune from a fortune cookie and thought, this would make an awesome song?
No? Well neither had I, until just recently. So I decided to make that our challenge for the sixth Composer Quest quest. I'm hoping this one will inspire you to meet up with other songwriters and composers to get your creative gears really turning.
The rules are simple:
Eat at an Asian restaurant that has fortune cookies.
Draw a fortune.
Create a piece of music inspired by your fortune.
Here's the quest announcement episode, in which I talk with Jed Anderson, amateur fortune cookie writer. I also unveil a new song I wrote based on the fortune, "There appear to be many clouds; but they quickly pass."
Audio clip: Adobe Flash Player (version 9 or above) is required to play this audio clip. Download the latest version here. You also need to have JavaScript enabled in your browser.
Right click to download Ep. 59, or open in iTunes.
Bonus Points:
Submit a recording of your music by December 14th if you'd like to try for a spot on the official Composer Quest Fortune Cookie album (it'll be free to download). Send me a picture of your fortune and your finished WAV or AIFF track via a dropbox link or wetransfer.com (my email is charlie@composerquest.com).
If you're near Minneapolis and free on Thursday, November 14th at 8pm, come have dinner with me and some past Composer Quest guests! The first six fans who email me will get a spot at the table.
If you're not in Minnesota, get a group of songwriters/composers in your area together for dinner, then meet again for a casual listening party where you share your music. If you'd like to meet up with other Composer Quest fans in your area, email me and I'll try and get you in touch with others around you.
Once I got a fortune that said "Do, or do not. There is no try." In that spirit, do it! Good luck!
Subscribe to Composer Quest
---