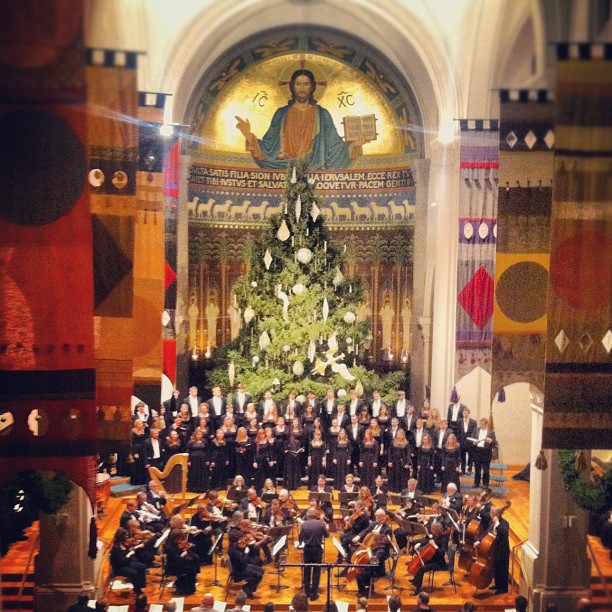 UPDATE: 33 composers arranged carols for this quest! Congrats to all of you. Check the special Christmas podcast episode to find out which carols were selected and performed. A special shout out goes to Darren Wirth for arranging ALL EIGHT CAROLS!
I'm excited to announce a brand new Composer Quest competition! The Amadeus Chamber Symphony is in need of Christmas carol arrangements for their holiday performances with the College of Saint Benedict and Saint John's University choirs. The performances are attended by over 1,500 people, so it will be great exposure for the chosen composers. Eight arrangements will be performed by the orchestra and choirs, recorded, and featured on my podcast.
Step 1: Take a listen to my talk with director Axel Theimer.
Audio clip: Adobe Flash Player (version 9 or above) is required to play this audio clip. Download the latest version here. You also need to have JavaScript enabled in your browser.
Right click to download Ep. 53, or open in iTunes.
Step 2: Choose a carol from the list below.
You can choose the same carol as someone else. You can always change your mind later. This poll is just an attempt to avoid too many people writing the same carol.
UPDATE: Check this document for the lyrics to use. All the carols should be two verses except Silent Night (there are a lot of pieces being performed at this concert, in addition to our arrangements).
Step 3: Arrange!
For the audience: Since the audience is going to be singing along with the orchestra and choir, Axel requested that we arrange these pieces in singable keys. Make sure to write in the key I noted in the poll above. Also, the audience will be expecting a fairly traditional arrangement, so don't make this into a Schoenberg Christmas (maybe that should be another quest?).
For the choir: You can choose to have the choir sing the melody in unison or in an SATB arrangement, or some combination of the two.
For the orchestra: In the past, the orchestra has played from four-part hymns, which tend to be boring. They're looking for something more tailored to each instrument and more interesting to play. Feel free to get creative with your arrangement, but keep in mind that the orchestra has limited rehearsal time.
The instrumentation is as follows:
2 flutes
2 oboes
2 clarinets
1 bassoon
2 french horns
2 trumpets
1 trombone
strings
organ
timpani
percussion (limited)
voice (either unison or SATB)
Step 4: Submit your arrangement by 11:59pm CST on Wednesday, Oct. 23rd.
Email a PDF (with score and individual parts) and a MIDI or audio file to me – charlie@composerquest.com. Feel free to email or tweet any questions you have during the process. Can't wait to hear your arrangements!
If your piece is chosen, the performances are:
December 6, 2013, 8:00 PM – Great Hall at Saint John's, Collegeville, MN
December 7, 2013, 2:00 PM – Great Hall at Saint John's, Collegeville, MN
December 7, 2013, 8:00 PM – Basilica of St. Mary, Minneapolis, MN
I will have a live webcast of one of these performances. Stay tuned for more details.
Subscribe to Composer Quest
---