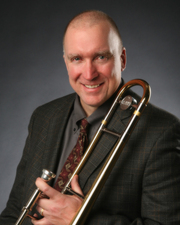 Student jazz players have likely come across the name Dean Sorenson – his jazz curriculum books have been published by Kjos music and played in schools across the globe. In my Composer Quest interview with Dean, I ask him about how he makes music fun and playable for younger jazz players. We also talk about the differences between improvising and composing.
Audio clip: Adobe Flash Player (version 9 or above) is required to play this audio clip. Download the latest version here. You also need to have JavaScript enabled in your browser.
Right click to download Ep. 52, or open in iTunes.
Also in this episode, I feature listener-submitted arias from the "Arias on Tap" composing quest.
Visit Dean Sorenson's website for more info about his jazz curriculum books.
Subscribe to Composer Quest
Episode Soundtrack
 0:15 – Original Composer Quest theme by Dean Sorenson
0:24 – "Kristi's Waltz" – Dean Sorenson (Jazz Ensemble Signature Series)
4:25 – "Please Don't Climb on the Iguana" – Dean Sorenson (Standard of Excellence Jazz)
21:52 – "Once More" – Mary Beth Huttlin
23:31 – "When the cold, dark, damp of this place" – Nicholas Mroczek
25:08 – "Secretly Wanted" – Ryan Blanton
26:10 – "Mobile Home (Rubie's Aria)" – Words by Lori Ann Stephens, music by Charlie McCarron
27:15 – Connected theater scene scoring – Charlie McCarron
---