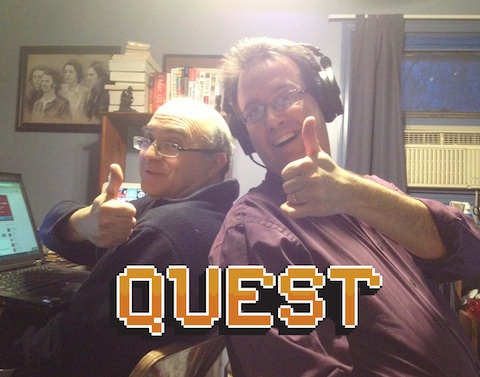 Update 2: The album is complete!
Update 1: partners have been randomly chosen from the Composer Quest cup of destiny! Enjoy this video I recorded just after midnight:
Scroll to the bottom of this post if you can't stand the suspense of this video.
About Quest #2
Your composing quest, should you choose to accept it: co-write and co-record an original piece of music with a random Composer Quest listener, based on the theme "Conversation." Your finished track will be part of the first ever Composer Quest album, a free-to-download online release.
In this special Quest #2 announcement episode, I talk with musical comedy duo The Boffo Yux Dudes about how they record songs together exclusively over the internet.
Audio clip: Adobe Flash Player (version 9 or above) is required to play this audio clip. Download the latest version here. You also need to have JavaScript enabled in your browser.
Right click to download Ep. 39, or open in iTunes.
How to participate:
Sign up by 11:59pm CST on Monday, May 20th.
Write/record a track with your songwriter/composer partner (most likely over the internet). It can be a song or an instrumental, based on the theme of "conversation." 7 minutes max.
Send your finished track to charlie@composerquest.com by 11:59pm CST on Monday, June 17.
Join us for an online listening party at ComposerQuest.com on Wednesday June 19th at 8:00pm CST.
If you have any questions, you can email me (charlie@composerquest.com) or post your questions in the brand new Composer Quest subreddit.
Special thanks to the Boffo Yux Dudes for giving us some collaborative songwriting advice and providing the music for this episode.
If you're looking for some ideas on how to do collaborative recording, check out this project I hosted a couple years ago called the Frankensong Challenge.
Randomized Partners
Here are the randomized partner results:
I think it's cool that all but two pairs live far away from each other. So it'll definitely be an online Postal Service-type challenge. Good luck to you all!
Subscribe to Composer Quest
---