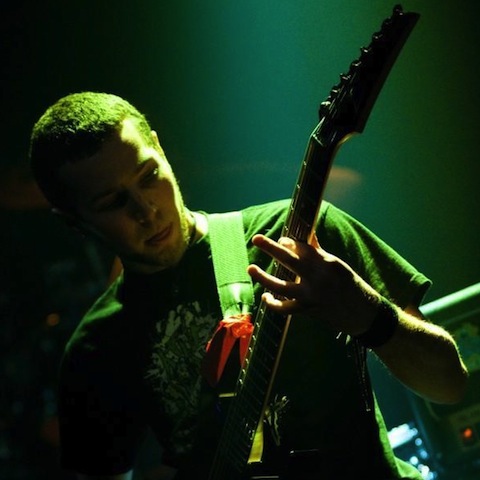 Metal isn't for everyone, but guitarist Devin Earlywine is okay with making music 90 percent of listeners won't enjoy. In Composer Quest Ep. 27, Devin talks about how metal isn't all about doom and gloom. He even admits his band Idiopathic Necrotization started as a joke to have fun with the ridiculousness of the gore death metal genre. In most of his music, Devin tries to avoid thinking of his audience at first, so there are no roadblocks between the purest musical idea from his brain to the finished song.
Audio clip: Adobe Flash Player (version 9 or above) is required to play this audio clip. Download the latest version here. You also need to have JavaScript enabled in your browser.
Right click to download Ep. 27, or open in iTunes.
Episode Soundtrack
You can find Devin's music on YouTube, his Arteries Facebook page, and his Idiopathic Necrotization Facebook page.
0:00 – Original Composer Quest intro by Devin Earlywine
0:06 – "Maladies" – Arteries (Layers, 2013)
0:52 – "Appeasing the Sacrificial Apparatus" – Bodies in Wake (Apparitions, 2010)
1:26 – "Layers" – Arteries (Layers, 2013)
3:10 – "Decay in the Womb" – Bodies in Wake (Apparitions, 2010)
5:08 – "Yearning for Execution" – Bodies in Wake (Apparitions, 2010)
6:56 – "Atmospheres" – Arteries (Layers, 2013)
12:05 – "New Epic Stuff" – Devin Earlywine (YouTube demo, 2010)
15:03 – "Bronchitis" – Idiopathic Necrotization (2012)
17:30 – "Grinding the Obese" – Idiopathic Necrotization (2013)
18:54 – "Sequences" – Arteries (Layers, 2013)
21:21 – "Ischaemia" – Arteries (Layers, 2013)
Subscribe to Composer Quest
---