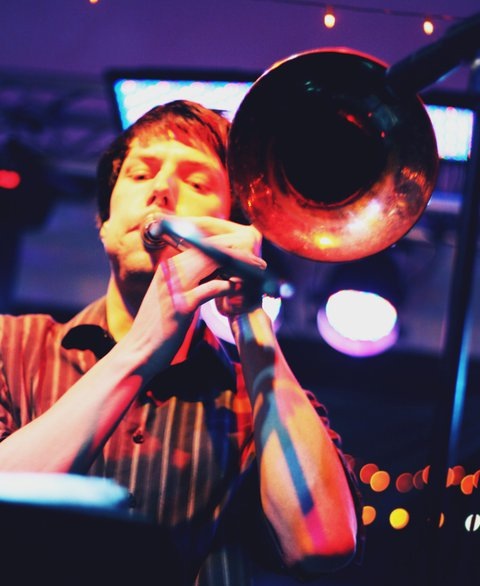 Jazz trombonist Nick Syman has challenged himself to write a large jazz ensemble piece based on the St. Anthony Falls collapse in 1869. In Episode 16 of Composer Quest, Nick talks about how using a story can help you structure an instrumental piece of music. Nick also explains how the tension and release system of Afro-Cuban rhythms can help make more compelling melodies. And finally, we talk about our experience starting and finishing our Cagetones album in one month last February, for the RPM Challenge.
Audio clip: Adobe Flash Player (version 9 or above) is required to play this audio clip. Download the latest version here. You also need to have JavaScript enabled in your browser.
Right click to download Ep. 16, or open in iTunes.
For more of Nick's music, visit his Soundcloud page. You can also check out our collaborative Cagetones album Did You See The Moon? on Bandcamp.
Episode Soundtrack
1:12 – "Sun God" – The Latin Jazz Collective (¡Que Sorpresa!, 2010)
1:34 – "Just One More" – Cagetones (Did You See The Moon?, 2012)
11:10 – "Dissolve" – Nick Syman
12:47 – "Hope" – Cagetones (Did You See The Moon?, 2012)
15:31 – "Palmas" – The Latin Jazz Collective (¡Que Sorpresa!, 2010)
18:36 – "Rumba Urbana" – The Latin Jazz Collective (¡Que Sorpresa!, 2010)
19:48 – "The Fishermen Three" – Cagetones (Did You See The Moon?, 2012)
23:03 – "Loose The Ropes II" – Cagetones (Did You See The Moon?, 2012)
Subscribe to Composer Quest
---