Matt Schubbe, the graphic designer behind our 8-bit Composer Quest art, does some songwriting, too! In this podcast episode, we talk about how he writes songs for (and with) his wife, Donna. Matt tends to choose strange lyrical topics, like a kid getting his head stuck in the banister, or the 1739 invention of a pooping duck automaton.
Audio clip: Adobe Flash Player (version 9 or above) is required to play this audio clip. Download the latest version here. You also need to have JavaScript enabled in your browser.
Right click to download Ep. 7, or open in iTunes.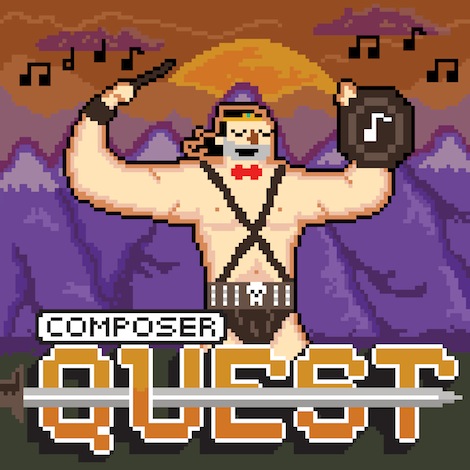 For more of Matt and Donna's music, visit their Bandcamp page.
Episode Playlist
0:25 – "Ghost Town" – Matt Schubbe (2006)
3:44 – "Eskimo-esque" – Matt Schubbe (2007)
9:12 – "Anatomy Dance" – Matt and Donna (SpinTunes #3 Rap Challenge, 2011)
11:39 – "Trail in the Snow" – Charlie McCarron (SpinTunes #3 Rap Challenge, 2011)
15:10 – "Canard Digérateur" – Matt and Donna (Song a Week Sessions: Volume 1, 2012)
16:16 – "A Tight Spot" – Matt and Donna (SpinTunes #3 Headline Challenge, 2012)
24:10 – "What Remains" – Gambit (2007)
Suggested Listening
Subscribe to Composer Quest