I talked with my cousin, Nathan Graves, who fronts the band With a Gun for a Face and writes solo music under the name Kurtz. Nate's music is usually pretty dark and dissonant, but strangely catchy. The more I listen, the more I like it.
This podcast episode is a bit longer than previous Composer Quest episodes, but we got into a pretty interesting discussion about avant garde art. Hope you enjoy!
Audio clip: Adobe Flash Player (version 9 or above) is required to play this audio clip. Download the latest version here. You also need to have JavaScript enabled in your browser.
Right click to download Ep. 4, or open in iTunes.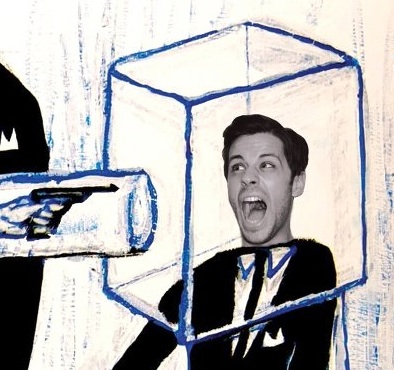 For more With a Gun for a Face music, visit Bandcamp or Facebook. Nate's solo music, visit Kurtz on Bandcamp or Facebook.
Episode Playlist
0:43 – "Everything Burns Alike" – Kurtz (The Song a Week Sessions: Volume 1, 2012)
3:00 – "Parade of Horribles" – With a Gun for a Face (Corporate Callosum, 2012)
4:25 – "Robot Weekend" – Grass Party
5:14 – "Severance (live)" – With a Gun for a Face (Live at Hell's Kitchen, 2011)
7:33 – "Neuro Theater" – With a Gun for a Face (Corporate Callosum, 2012)
11:14 – "Dying Fall" – With a Gun for a Face (Goodnight, Ladies, 2010)
14:30 – "The Living" – With a Gun for a Face (Corporate Callosum, 2012)
17:40 – "Artery" – With a Gun for a Face  (Corporate Callosum, 2012)
22:12 – Live version of new With a Gun for a Face project, Autocrat.
28:40 – "Birthings" – With a Gun for a Face  (Corporate Callosum, 2012)
31:11 – "Killing Hour" – With a Gun for a Face  (Corporate Callosum, 2012)
44:08 – "Autocratic Intelligence" – Kurtz (The Irrational, 2011)
44:42 – "Approaching the Digital Infinite" – Kurtz (The Irrational, 2011)
47:14 – "Paranoia" – Rat People (2011)
48:33 – "Happy Cancer" – Rat People (2011)
Suggested Listening
Listen and Subscribe